Taped: Wednesday, July 28th
Air Date: Saturday, July 31st, 2004
From the Xcel Energy Center
St. Paul, Minnesota
Attendence; 6,092

We are welcomed to Night of Champions 2 by our ringside hosts, Joe Aiello, Linley Tolbert, and a newcomer to MAPW Steven Regal (who just arrived in the Twin Cities via plane 2 hours before bell time).
The event will be split into 3 episodes of Rage and will also feature some "classic" matches and highlights from MAPW events of the past.

Opening Bout:
Pacific Coast Jr. Heavyweight Title Match
Haida Warrior (ch) v Jamie Knoble (/Sable)
The promoters made a wise move bringing in this fast rising star from the west coast, as an estimated 600 extra tickets were sold to the local native communities to come see the Warrior.
The Warrior did not disapoint starting strong off the start, returning fire from Knoble's fist with chops to the chest that backed Knoble out of the ring and into the arms of lovely Sable.
Knoble returned to the ring but faired no better, and the Haida Warrior got a near 3 count after nailing a hurancanrana on Knoble out of the corner. Spurred on by his success the Native Canadian star finally made a mistake missing a flying bodypress, and bouncing out of the ring.
Sable laid in the boots on a fallen champ while Knoble distracted referee Jimmy Appleseed. Then the MAPW star flew out of the ring and squashed the champion with a Tope Suicida. Knoble took the time out to go to the announce table, grab the mic, and announce to the crowd that they could all kiss his ass because he and Sable were heading to the West Coast right after he took the Warrior's title.
Knoble took it back inside and punished Warrior with a back suplex, moonsault, and a sling-shot legdrop, but could only get a 2 count. Knoble went to the top rope and came down for the leg drop, but the Warrior rolled out of the way.
Both men struggled to their feet but Warrior struck first with a pair of standing side kicks, one to the chest, and then one to the knee that dropped Knoble like a rock. The champ then nailed a rocker dropper on the challenger and was prepared to cover when he saw Sable trying to sneak into the ring. The Haida Warrior though cornered Sable and backed her into a corner. She then tried to distract him by blowing kisses, as the crowd jeered Knoble who was back on his feet and trying to sneak in on the Haida Warrior. Sable then unzipped the front of her black latex catsuit, giving the younster a full frontal view.
Knoble struck with a running knee to the back...but no...the Warrior was not tricked...and he moves out of the way at the last second. Knoble goes smashing into Sable and the Warrior locks the Dragon Sleeper in on Knoble who quickly passes out.
Haida Warrior submitted Jamie Knoble with the Dragon Sleeper at 9:16.
[Haida Warrior retains the PCW Junior Heavyweight Title]
Sable

Classic Footage:
September 27/03: Rage, Night of Champions....
Dr. John Manfried v Dave Batista
This feud has been building for several weeks, with Manfried taking offense at Batista's trying to make a gimmick for himself by injuring younger, smaller wrestlers. Then Batista made light of Manfried's past, specifically his jail time for manslaughter. These two didn't need to wait for the bell to ring before they were slugging it out in the middle of the ring.
Not a whole lot of scientific wrestling going on in this one. Batista took control with a chop to the throat, followed by a full nelson slam. He then punished Manfried with a hangman, followed by a choke lift. He released the choke at the 5 count to avoid being disqualified by referee Melissa Coates. Batista then took the match outside the ring where the two brawled and refused to re-enter the ring. Manfried grabbed the upper hand by pulling Batista into the ringpost. He then placed the safety guardrail over the Leviathan's throat and put his entire weight onto it. This was all Coates was willing to take and she called for the bell.
[Manfried and Batista battled to a double countout at 5:53]
Post-Match:
The two big men continued to try and hurt each other after the match. The first couple attempts to break up the encounter by security were met with force by both combatants. Finally the two were pulled off of each other and taken to the back.

South African Heavyweight Title Match
Frans van Der Heever (ch) v Shawn Michaels
Coming off the World Cup Michaels looked tired, and Van Der Heever was probably looking at this as a once in a lifetime opporunity to make a bigger name for himself.
These contrasting levels of motivation showed early as Michaels was on the defensive while van Der Heever did everything he could to try and end the match in his favor. The South African got near falls after a Samoan drop and after a diving headbutt, but Michaels managed to kick out each time.
Then something seemed to click and Michaels took over the match getting a nearfall after a flying forearm smash. HBK was tapping his foot and getting ready to administer the sweet chin music...when suddenly the same masked man we saw on RAGE (wearing a black and red mask) slid under the bottom rope. The masked man had a lead pipe and used it to hamstring Michaels and then cracked him right over the head with a vicious shot from the pipe. Michaels fell flat on his face. Referee Melissa Coates bent down to examine Michaels and her hands came away crimson red from blood. She called for help and for the bell.
No Contest at 8:11.
Post-Match:
MAPW security stormed the ring and this sent the masked man away through the crowd the same way he came. Van der Heever grabbed his title and left, taunting the crowd. The paramedics arrived and tried to take Michaels away on a stretcher. However, the HBK rose up and fought them off, his head wrapped in an already dark red bandage. Michaels struggled on his own to the backstage area.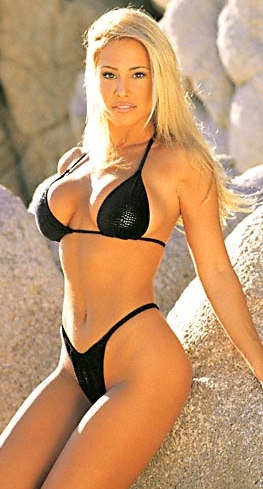 Pamela Paulshock
Backstage:
Pamela Paulshock makes her return to MAPW. She stands outside a non-descrpitive dressing room door.
Paulshock] Hello wrestling fans. I'm Pamela Paulshock, and right now I'm standing outside the dressing room door of the surprise opponents for the Spinebusters tonight...
A very loud crashing sound is heard as something heavy hits the back of the dressing room door, followed by high pitched manical laughter.
Paulshock] I was about to say we are going to barge in there and uncover just who these superstars are, but maybe that isn't such a good idea?
From out of the picture comes Bob Backlund and Debra McMichaels.
Backlund] What are you doing Pamela? You think you just get paid to stand there looking pretty?
Debra taps Backlund on the shoulder, and then nods to him.
Backlund] Oh, I see. Well I have business to conduct in there because I think that Buddy Lane is inside there right now discussing the rules..
Another loud crash is heard, more laughter, and then the door opens. Buddy Lane flees from inside the dressing room but we are unable to see anyone inside. There is another loud crashing and the dressing room door slams shut.
Lane] Those guys are nuts!!
Backlund] Don't mind them right now Buddy. I need you. Jack Larkin needs you! Adam Burke's match is next and we want you to ref this one personally.
Lane] Sorry Bob, it's Jurgen Hermann's draw.
Backlund] Hermann? That long time inept referee? Forget it Buddy, we need you in this one.
Lane] Sorry Bob, I'm the head referee. I wouldn't do that to one of my officials, and besides, if he's so inept then why don't you guys finally fire him?
Backlund] I donna...he's been here like 20 years I think. Wouldn't really be fair I guess. But look Lane, we're asking you, we're begging you, please ref this one yourself. We want to make sure that Burke gets a square shot against that manipulative jerkoff Asp Evergreen. What do you say? Please?
Lane] Oh, all right, just this time.
Lane wanders off, followed by Baclund and McMichaels. Paulshock goes up the dressing room door and is contemplating knocking until she hears a wild, loud scream of pain from inside. She turns away.

<<< cue "Eye of the Tiger" by Survivor >>>
Adam "tiger" Burke comes running down the aisle. He slows down enough to high-five many fans, and to throw his sunglasses into the audience. He circles the ring continuing to high-five the fans who are giving him a luke warm reception, uncertain whether this much hyped youngster is the real deal. Inside the ring Burke grabs a mic.
Burke] Asp Evergreen. Last week you seemed to be a guy who just needed a break, someone to say, "don't give up, keep going". I'm glad I did that for you, and I'm happy to share this spotlight that has been given to me with you. I want to be your friend, I really do. But don't for one second think I am a green rookie. I know about your past, I know how you have treated your friends, like Eddie Chavez, and I know enough not to trust you. If you really want to be my friend Asp then you have to earn my trust. I'm not sure why you haven't returned my phone calls this week, I was worried about you, worried you might do something rash. Anyway, our friendship is not getting off to a great start, but hopefully that will change with our little gentlemen's match here tonight.
<<< cue "Asp" by Savatage >>>
Asp Evergreen comes down to the ring to jeers from the crowd. He is accompanied by his manager Derek St. Holmes, ESQ who takes up position in the corner. Inside Asp takes the mic gently from Burke.
Asp] Did you call? I'm sorry Burke I didn't know. I guess Eddie Chavez' Mom didn't give me the message. But that's okay that's about all she didn't give to me. Anyway, yes Adam I am ready for our little gentleman's match here tonight. But you know what? I was wandering around backstage earlier and I bumped into this incredible young guy. His name is "Hawkeye" Trent Hirst and he's been wrestling up North in Winnapig and he came down here tonight, on his own dime, in hopes of getting on TV. I know how hard you and I had to work for our opportunities Adam, and that's why, if it's all right with you that is, I have invited Hirst to join us in this match, making it a 3-way dance.
Burke] You know something Evergreen, that was real nice of you. Maybe I really have misjudged you. Of course it's okay for Hirst to join us.
Trent Hirst comes down to the ring looking quite happy. He enters the ring and shakes hands with Burke and then with Evergreen. Asp and Adam then also exchange a handshake. Buddy Lane now joins them inside the ring. He announces that this will be a Triangle match, meaning only two men will be legal at a time, with the 3rd man having to tag in. It will be one pinfall only.
Triangle Match
Adam Burke
v
Asp Evergreen (/w Derek St. Holmes)
v
Trent Hirst
Evergreen "graciously" offers to let Burke and Hirst start things off. Burke takes Hirst down to the ground with a hiptoss but Hirst then knocks Burke down with a legsweep. Both men kip up their feet, stare at each other, and then lock up again. Burke soon takes control and punishes Hirst with a pair of clotheslines and a German suplex. He goes for a frog splash but Hirst rolls out of the way.
Suddenly Evergreen is going crazy asking for the tag from Hirst. The RME star crawls over to the corner and tags in Evergreen who quickly scrambles over and covers Burke, but only gets a 1 count. Asp presses the attack on Burke with some high-flying moves but can't hurt the atletic Burke enough to get a 3 count. Frustrated Evergreen signals for Hirst to come in while he holds Burke from behind and to double team. Hirst though shakes his head no, and Burke drops down and rolls Evergreen over into a pinning predicament and gets a near fall.
Burke goes right after Evergreen and punishes him with a slingshot splash and then a Tornado DDT but only gets a 2 count. Evergreen managed to evade the Tiger's Claw by leaving the ring. When Asp returned he tagged in Hirst. "Hawkeye" had some initial success against Burke but the Tiger soon fought back. Evergreen entered the ring to attack Burke from behind but instead Hirst used the hunched over back of Burke to spin off of and deliver a well timed kick to the solar plexes of Evergreen, knocking him onto his butt.
Hirst however then turned around, right into the Tiger's Claw (superkick). Burke then looked undecided whether to pin Hirst after seeing the downed Evergreen. However he relented and pinned Hirst, but NO, Hirst kicked out at the count of 2. Reluctantly Burke waited for Hirst to get to his feet again to deliver another Tiger's Claw. However, Derek St. Holmes decided to jump up on the apron and begin to climb into the ring, so Burke reeled around and ~waffled~ Holmes with the Tiger's Claw.
This time it was Burke's misfortune to turn around right into a finisher, a Dungeon's Bridge submission taught to Hirst in the Hart's infamous dungeon. Huge upset!
Trent Hirst defeated Asp Evergreen and Adam Burke when he submitted Burke with the Dungeon's Bridge at 9:31

Classic Footage:
September 27/03: Rage, Night of Champions
#1 contendership for the Mid-American Heavyweight Title
Ron Simmons v "Mad Dog" Manny Silva
Started off as a slug fest but Silva gained early control with a powerslam. He dropped a series of elbows to the sternum, and followed up with a series of stomps. He then climbed the top rope and came off with a big knee again to the sternum. He went for the pin but only got a 2 count from Jimmy Appleseed.
Simmons blocked a vertical suplex attempt, which made Silva resort to kicks and punches once more. Simmons finally blocked a punch, and spun Silva into the corner where he peppered him with shots to the gut and then added a vicious headbutt for good measure.
The company enforcer then slid out of the ring and pulled Silva face first to the mat by yanking on his feet. He then pulled Silva backwards, crotching him into the ringpost. He received a stern warning from Appleseed for this, but Simmons seemed pretty angry and gave Jimmy a bit of a push to the side.
Silva tried to fight back but Simmons was on a roll now, and nailed a pair of elbows to between the eyes, and then delivered his running powerslam finisher. He got the 1, 2, kickout! by Silva.
Frustrated Simmons tossed Silva over the top rope to the floor below. He then climbed to the top turnbuckle and attempted to come off with an axhandle to the back of the former champ. However, the mad man turned around just in time and got in a gut shot to Simmons. He followed up with a series of very controlled short knees to the head of Simmons before rolling him back into the ring.
Silva put Simmons in the camel clutch, but Simmons managed to bridge his back and get out of the hold. Silva then took Simmons face first into the corner, and then delivered a series of elbows to the lower back. He then grabbed onto the ropes on either side of Simmons and pushed his head into the lower back of Ron Simmons until having to break it at a count of 5.
Silva then went for a suplex, but Simmons hooked the leg to block it, and rolled Silva up into a pinning combination, for a 1 count before Silva rolled through it, hooked the tights, and got a near fall. Back onto their feet Silva ducked under a Simmons clothesline and then retaliated in kind, knocking the Georgian on his back. Silva grabbed the raised legs of Simmons, and then dropped a knee right into the groin. Appleseed missed this as he was changing positions and it was blocked from his view. Silva then rolled up Simmons and got the 1, 2, 3.
[Manny Silva defeated Ron Simmons by pinfall at 7:51 after a kneedrop to the groin]
[Manny Silva is the #1 contender for the Mid-American Heavyweight Title]

MAPW & COMPLEX Mixed Tag Match
Ron Waterman & John Walters
v
Raymond Bingham & Gabriel Moore
Walters appeared pumped for this match and wanted to start it off against his nemesis from COMPLEX, Gabriel Moore. But Moore demurred and had the cocky Bingham start the match instead. Walters locked up with Bingham, and the former PWI Rookie of the year sent Walters down with a hiptoss, then another when he regained his feet. Walters got up a third time, only to once again go down, this time to a Bingham standing dropkick. Bingham backed away and then mocked Walters by doing some warm-up jumping jacks.
This was a mistake as when they locked up again Walters put Bingham into a hammerlock, and then picked him up, and slammed him to the mat still in the lock. He dragged Bingham to his feet again, screaming in pain, and then slammed him back to the mat, still in the hammerlock. Walters tried to end the match early with a Gory driver but Bingham punched his way out of the hold and then took Walters down with a clothesline.
Walters tagged in Waterman who came in a house of fire, kicking and headbutting Bingham in the gut and chest. Waterman poured on the offense with a running clothesline followed by a bulldog. He would have got the 3 count but Bingham managed to drape a foot over the bottom rope.
Waterman then set up Bingham for the Water Bomb, only to have Gabriel Moore enter the ring and strike from behind with a kick to the back of the calf. Moore then nailed Waterman with a reverse DDT before being taken out by John Walters.
Referee Jimmy Appleseed tried his best to restore order but Moore and Walters were going at it outside the ring, and Waterman and Bingham were exchanging pleasantries inside as the legal men.
Bingham took an opportunity to low blow Waterman and make a tag to Moore. The self-proclaimed prophet took it to Waterman with a series of kneedrops, followed by a moonsault which got a 2 count. Moore tried to scoop up H20, presumably for the WWJD, but Waterman was too heavy and strong, and managed to shift his weight and come crashing down on Moore. Waterman pinned Moore, and got 1, 2, but Moore reached out and slapped hands with Bingham to make the tag.
Bingham went to work on Waterman with a dropkick, ropeflip clothesline, and a revere neckbreaker. He tried to get Waterman to submit with a surfboard submission but H2O powered out and tagged in Walters.
The Hurricane took it right to Bingham with a series of chops, a snap suplex, and then a missile dropkick. He went for the pin but it was broken up rudely by a stomp to the back of the neck from Gabriel Moore. Waterman bull rushed Moore and bodychecked him right out of the ring. Walters still feeling the effects of that boot ot the back of the neck tagged in Waterman. The big man sent Bingham to the ropes and then took him down with a drop toe hold, that he then converted into an ankle lock submission. Bingham lasted only a few seconds in the hold, and tapped out as Walters took out Moore who once again tried to interfere.
Ron Waterman & John Walters defeated Raymond Bingham & Gabriel Moore by submission when Waterman made Bingham submit to the ankle lock at 10:29.

MAIN EVENT #1
NWA & MAPW TAG TEAM TITLE MATCH
The Spinebusters: Bryan Caruthers & Jerry Orth
v
??? "mystery opponents"
<<< cue "Till it Sleeps" by Metallica >>>
The fans jeer as the pair of very pissed off looking Spinebusters make their way to the ring, title belts draped over each shoulder. They enter the ring and demand to know who their opponents will be.
<<< cue "Psycho Man" by Black Sabbath >>>
TEAM EXTREME !! One of the most dominant tag teams in PWA/WWA history have returned to North America! Despite being long term villians the fans cheer the duo wildy, partly due to surprise and partly due to visions of seeing the Spinebusters pay for their bad deeds in blood. Kit Carson and Khris Germany waste no time, trying to make the best of their surprise they hit the ring fast.
Referee Buddy Lane calls for the bell as all 4 men go at it tooth and nail.
Kit Carson takes an early advantage on Jerry Orth, and Team Extreme shows the Spinebusters just who perfected the double team, frustrating the champs with quick tags and double team bodyslams and kneelifts.
Carson thinks about bringing in a steel chair but Buddy Lane warns him that will be a DQ, so he drops it. The delay however allows Orth to roll to his corner and make the tag to Caruthers.
Germany enters the ring and Caruthers takes him down with a single leg takedown and then drops an elbow into his "lower midsection". Caruthers spreads Germany's legs and drops a heel again just above the groin. "Plan B" Bryan Caruthers then locks in a sleeperhold on the kneeling Germany, who fights his way to the ropes after about 20 seconds.
Carson runs along the apron and knees Caruthers right in the head on the break. This allows Germany enough time to recover to make the tag. Caruthers tags out as well.
Both teams get into a rhythm after that and take turns with the advantage until Orth once again finds himself face to face with Carson just after the 12 minute mark.
Orth tries to punch it out with Carson but ends up on the short end of the stick. Carson goes to work with an eye gouge, a kick to the midsection, a lariat, and a swinging neckbreaker for a count of 2.
Carson sets up Orth for a piledriver near the corner and Germany climbs to the top for the stuffed piledriver, a double team move that the Spinebusters have been using a lot. But that sort of double teaming is illegl in MAPW and referee Buddy Lane steps between the two Extreme team members. Germany loses it and is about to come off the top rope and nail Buddy Lane but Caruthers had entered and gets in the way. Germany comes off the top rope and eats a fist to the gut from Caruthers, and both men topple backward and smack into Buddy Lane. The ref is down and out.
All hell breaks lose. Caruthers and Orth double team Germany until Carson goes and gets a chair from under the ring. Apparently this is a chair that Team Extreme must have planted because it is wrapped up in barbed wire and Christmas lights. Carson nails first Caruthers and then Orth with the chair. Caruthers is bleeding from the back, and Orth from the forehead. Carson then bodyslams Orth right onto the chair and the broken glass from the Christmas tree bulbs.
Referee Jimmy Appleseed comes onto the scene and rolls Lane out of the ring to safety. Khris Germany leaves the ring and bullies Appleseed into coming into the ring to make the count. The earlier cheers that Team Extreme heard are now being replaced by mostly jeers.
Carson nails Orth with a piledriver and then covers him for the 1, 2, KICKOUT!! Somehow Orth managed to kick out.
Appleseed gets in the face of Germany and forces him out of the ring. This allows Carson though to choke and then chop the throat of Orth. Carson nails a swinging neckbreaker and goes for the pin, and gets 1, 2, Caruthers breaks it up!
Khris Germany comes into the ring and nails Caruthers with a flying forearm. He takes him outside and the two fight around ringside with Germany gaining control. Germany drags Caruthers onto the announce table and bounces his head off of it with a DDT.
Back inside Carson lines up Orth for another piledriver on the barbed wire chair but Appleseed kicks the chair out of the ring. Carson nails the piledriver anyway, and this time he does get the 3 count.
We have new champions!!!
Team Extreme defeated The Spinebusters by pinfall when Carson pinned Orth after a piledriver at 17:01.
[Team Extreme have won the NWA & MAPW Tag Team Titles]
Team Extreme celebrates in the ring and the fans boo, filling the ring with debris. Jimmy Appleseed is explaining the situation to a revived Buddy Lane as we