Saturday, May 3rd, 2003

Only on PPV

MetraPark, Billings Montana

attendence: 3,820

A very somber looking Adam Riggs appears on the screen.
"Wrestling fans. I know that you hate me, or that you love to hate me, but despite that I come to you tonight, this one time asking for your prayers. Earlier today I was notified that Miss Elizabeth had indeed passed away. As most of you know, Liz was my valet in PWA for some time aroun 1999. I was lucky enough to have got to know Liz, and to have been touched by her gentle heart. She was a wonderful, giving woman. A very powerful light in this dark industry has been extinguished and it makes me very sad. We hope to put on a great show for you tonight, but we would hope that once it is over, and you go home, your thoughts turn to Miss Elizabeth, and all the great memories you have of "the first woman of professional wrestling". God speed Liz, and thanks for the memories. We'll miss you."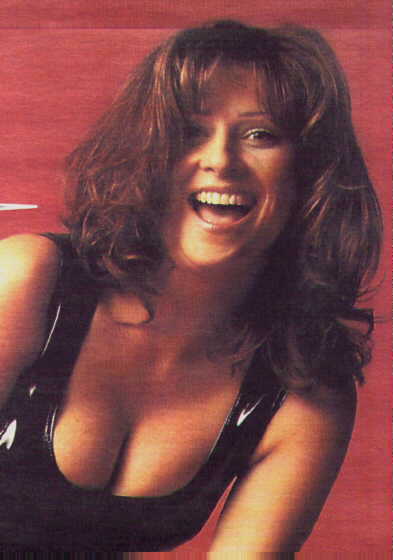 Norman Smiley v Dr. John Manfried
A newcomer to GPW, Norman Smiley showed up expecting a wrestling match, but soon figured out he wouldnt find one from Manfried. So he fought fire with fire and the two brawled all around the ringside area and into the crowd. Once the match spilled into the crowd referee Melissa Coates called for the bell.
[Dr. John Manfried and Norman Smiley fought to a double disqualification at ]

Crash Holly v Lord Valmont
Holly made his big card debut against Lord Valmont. Neither wrestler seemed very eager to lock up in this match. The feeling out process was a couple minutes before Valmont won a test of strength and then delivered a nasty chop to the throat of Holly. But Valmont spent too much time showboating to his wife and valet Sherry Valmont and it cost him as Holly surprised him with a roll-up and a near fall. After that shock the two men got down to business with a few minutes of great chain mat wrestling, both men getting near falls after each held onto a handful of tights to try and get the job done. Holly tried to whip Valmont into the ropes, but Valmont stopped in his tracks, and reversed it sending Holly to the ropes. But Holly surprised Valmont with a spear. He followed this up with a swinging neckbreaker, and then when Valmont got to his feet Holly finished him off with a spinebuster slam.
[Crash Holly defeated Lord Valmont by pinfall at after a spinebuster slam]

Asp Evergreen
12-man elimination match
Asp Evergreen/Eddie Chavez/Shaggy 2 Dope/Violent J/Derek St. Holmes/Pogo the Clown
V
Shane Stevens/Don Spartan/Tenacious Z/"Tough Enough" Scott/Shane Madison/Will Damon
Order of elimination;
1.Derek St.Holmes (by Tenacious Z 2:04)
2.Violent J (by Shane Madison 4:14)
3. "Tough Enough" Scott (by Shaggy 2 Dope 6:00)
4. Will Damon (by Asp Evergreen 6:45)
5. Shane Stevens (by Eddie Chavez 8:19)
6. Eddie Chavez (by Tenacious Z 11:34)
7 & 8. Don Spartan & Shaggy 2 Dope (double pin 13:30)
9. Pogo the Clown (by disqualification, Tenacious Z, 14:58)
10. Tenacious Z (couldn't answer the ten count, 15:12)
11. Asp Evergreen (by Shane Madison 17:00)
Winner and Sole Survivor: Shane Madison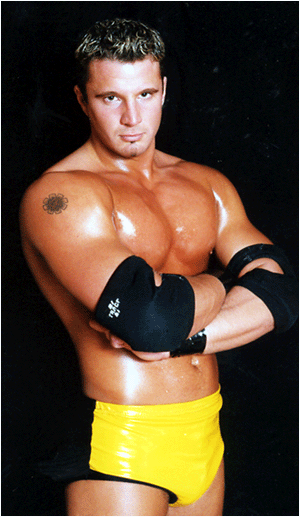 Shane Madison

President Jack Larkin
In-ring Interview:
President Jack Larkin comes to the ring along with his head of security Ron Simmons, and a few extra security guards.
He says he has 3 big announcements to make.
First, he has hired a new executive assistant. He calls out to the back, and down the aisle walks the sultry Kimberly Page, in a blue sequin dress. The fans cheer the arrival of the diamond doll.
Second, in the match at Lock & Load while the Great Canadians succesfully defended their tag team straps, Eric Scott hurt his knee and is on the shelf indefinetly. It will soon be 30 days and Scott will not get clearance to wrestle. Therefore, the Great Canadians, Eric Scott & Vincent Regliatti will relinquish their tag titles. A tag tournament will begin on Wednesday Rage, and will culminate in the final match at "Nothing Else Matters".
Thirdly, we have a surprise new arrival to GPW scheduled for this Wednesday night rage. This superstar will shock GPW to it's core. You don't want to miss this Wednesday's Rage.
With that Larkin takes Kimberly Page by the arm and they leave the ring together.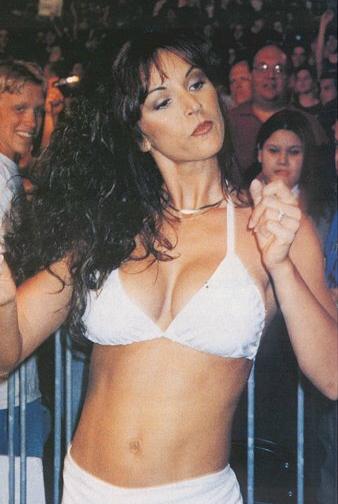 Kimberly Page

Spinebusters Young Guns
Bryan Caruthers & Jerry Orth v Johnny Devine & Greg Pawluk
The fans of middle America apparently hadn't forgotten the Spinebusters and their tactics of the past because when they walked the aisle for the first time in GPW they were greeted with a standing jeer, and several cups of soda to the back and head.
Inside the ring it became apparent that the Spinebusters also hadn't forgotten how to control a match. The first few minutes belonged to the younger, faster Young Guns. But the 'busters stalled for time and when they finally got the advantage they never released it. For the next six minutes they worked over first Devine, then Pawluk, and rarely did the match venture out of their half of the ring. With quick tags and a slow 5 count from long time inept official Jurgen Hermann it seemed like both Caruthers and Orth were constantly in the ring together. It didnt help the youngsters when they couldn't control their tempers and Hermann had to turn his back on the action to escort Devine or Pawluk out of the ring. In the end it happened again that Devine couldn't take anymore and entered the ring but was cut off by Hermann. While his back was turned the hated duo applied the double spinebuster slam that left Pawluk motionless in the ring. Devine though entered the ring once again, this time with a steel chair. Hermann had his back turned to Devine and was counting out the pinfall so he didn't see Devine approach. However, he did see Orth enter the ring and stood up to pull Orth out of the ring. This allowed Devine a clean shot to the back of the head of Caruthers. Devine put Pawluk on top but before Hermann could finish the count, Orth returned to the ring and pulled the referee away from the count. Hermann called for the bell.
[Young Guns defeated the Spinebusters by disqualification at 14:54 when Jerry Orth was disqualified for physically handling the referee]

Gregor Kitnitsov v Jon Stewart
Kitnitsov has really been on a roll as of late in GPW coming off big card victories against The Patriot and Gabriel Argos. He seemed ready to make the jump to top contender status for the Heritage or even Heavyweight title. Then something got in the way. During one of his anti-American tirades on RAGE, Dirty Deeds by AC/DC hit and the Kutlu Warrior Jon Stewart hit the ring with a Singapore Cane and began to beat the Russian and his Korean manager Sammy Yip to within an inch of their lives. It was the most brutal attack we have seen in GPW, and the fans ate it up.
Stewart was suspended for his attack by Jack Larkin until tonight, so this was the first time the Russian had a chance to face him. Stewart brought his Singapore Cane into the ring with him, so Kitnitsov brought a chain in as well. The two faced off and when head referee Buddy Lane tried to intervene they just pushed him away, not once, not twice, but three times.
Then finally the two began to exchange swings, with the chain and cane. Both men were busted open and the bell hadn't even sounded. Sammy Yip tried to attack Stewart from behind with a chair, but the veteran quickly tuned and caned him across the head. The Cane was now broken into pieces and no use to Stewart. This gave the Russian the distinct advantage as he used the chain to batter and then to choke Stewart. However, the newcomer to GPW fought back with his hands, raking the eyes of Kitnitsov and then forcing both he and his opponent to spill out of the ring to the floor below.
The brawl just continued outside the ring but this time Stewart grabbed the advantage by ramming the Russians head into the post. He then pulled Kitntisov onto the announce table and DDTs him through it. Although the match was officially a no-contest it was obvious that Stewart was the true winner.
[No-contest]

4-way Dance
Jesse Hennig v Sam Holiday v Stan Baker v Raymond Bingham
A lot of hatred in this ring, most of it directed at Sam Holiday. However, Stan Baker proved early to be his own man, refusing to ally himself with any of the others. Bingham and Hennig had a short allegiance that they used to punish Baker for not going along with their plans, but even that soon disintegrated.
Baker was strong enough to control the next phase of this match, but when he tried to put away Sam Holiday he found the icon of middle America had too much gas left in the tank. Holiday rallied against not only Baker but all 3 foes. He cleared the ring of everyone except Hennig. But as he tried to whip Hennig to the ropes it was reversed and Hennig sent Holiday into the ropes instead. Bingham was trying to get back into the ring, so he collided with Holiday at the ropes and was knocked back down to the floor. Hennig applied a fisherman buster to Holiday and got the surprising victory.
[Jesse Hennig won a 4-way dance by pinfall over Sam Holiday at 12:02 after a fisherman buster]

Steve Riley v Vic Gate
Gate coming off losing his heritage title to Den Graves met the monstrous Riley who was also coming off a down period not being able to secure a top notch win to put him into title contention.
Gate tried to wrestle him, but Riley used his power and balance to thwart every attempt to lock up, and then caught Gate in a big bear hug. Gate managed to reach the ropes for the break but the match was now in favor of the big man. Riley punished the former Heritage champion with a belly-to-belly, a sidewalk slam, and then applied a surfboard submission.
Again Gate managed to get to the ropes. He left the ring to buy some time, but Riley went right after him. Gate though was trying to draw Riley into his trap, and much to the fans liking the veteran caught Riley trying to follow him back into the ring. Gate went to work on Riley's leg, with a series of elbowdrops to the quadriceps. He then pulled a couple of stump pullers out of his old-time repetoire. Just when it looked like Gate may have solved this big monster, from his knees Riley struck Gate in the face with a devastating punch, and then lunged forward taking him down to the mat. The powerful man from Colorado grabbed Gate in a reverse chinlock and then turned it into a surprising STF. Vic Gate had no choice but to tap out.
[Steve Riley defeated Vic Gate by submission with the STF at 12:27]

Boss Strickland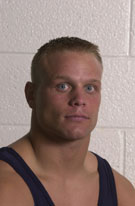 Chrome v Boss Strickland
Another match with 2 guys desperate for a victory to put them back into title contention. Strickland is the much better technical wrestler but Chrome uses his size advantage to pound away at "the Boss". This match goes back and forth with neither man holding the advantage for more than a minute of two. Finally Boss does get a sustained advantage. He goes for his frog splash finisher but Chrome manages to bring his knees up and spoil it for Strickland. Still, Strickland is on his feet first and lines Chrome up for a German suplex. The big man from the Badlands blocks it, gives a back elbow to his surprised opponent, floats behind, and then gives Strickland a nasty looking German suplex of his own. He bridges upon impact and gets the 3 count.
[Chrome defeats Boss Strickland by pinfall at 9:39 after a German Suplex]

Heritage Title Match
Den Graves (champion) v Union Jack
Graves' first defense of his newly won Heritage title was against the biggest thorn in his side this year, Union Jack. When Den Scarrman came down to ringside with Graves it brought out UJs friend Gabriel Argos to keep an eye on him. Argos was still wearing that protective mask on his face because of his broken nose suffered at the hands of Gregor Kitnitsov at Lock & Load.
Another mat classic between these two excellent workers unfolded. Graves though would gain the advantage and then totally forget the tactics that got him control, and instead try and sneak in a choke or eyegouge, or resort to fisticuffs. This caused referee Jimmy Appleseed to put space between the two competitors which is what Union Jack needed to regroup. Soon the match spilled out of the ring where again Graves was the better man, using his strength to bully UJ around. Back inside though UJ surprised Graves by locking in the tarantula on the ropes. This brought Scarmann around and even though Argos managed to take him down from behind it wasnt until after Scarmann had managed to deliver an elbow to between the eyes of UJ.
Graves gave UJ the giant swing, and when he released him UJ skidded into the ringpost. Graves crawled over to UJ, still dizzy, and applied the STF but was too close to the ropes and UJ got the break. Graves stumbled to his feet inside the ring, but UJ used the rope to steady himself as he got up, and then to hold onto as he delivered a series of sidekicks to the gut and then the head of the champ. He flipped over the back of Graves and rolled him up, for the 1, 2, kickout!
UJ was up first and brought Graves down with a clothesline. He backed into the ropes and came off with a running clothesline. As Graves got to his feet UJ tried for a 3rd clothesline, but this time Scarrman was waiting and tripped up UJ. Graves brought UJ into the middle of the ring and applied an arm scissors that had UJ tap out in seconds.
[Den Graves defeated Union Jack by submission at 17:45 with an arm scissors]
[Den Graves retained the GPW Heritage Title]

GPW Champion, Manny Silva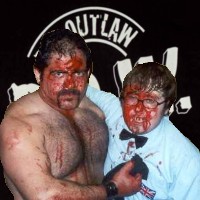 THE MAIN EVENT
Guest Referee: Vendetta
Ron Simmons' position as head of security on the line
Manny Silva & Adam Riggs
V
Ron Simmons & The Patriot (/w Jack Larkin)
Backstory;
This match was set-up on Rage earlier this month. Simmons got his title shot against Silva, but lost again to Silva who this time cheated by putting his feet on the ropes for extra leverage when making the pin. Angry, Larkin told Silva he would have to meet a mystery opponent the next week. The mystery opponent turned out to be a newcomer to GPW (but a legend in pro wrestling) the "Phenom" Adam Riggs! Despite years of advanced billing as being a total s.o.b. the fans cheered Riggs as he was brought to the ring by Larkin. But before that match could even start Riggs shook hands with Silva, and the two attacked Larkin. They gave the President quite a beating before finally Ron Simmons and the Patriot came to his rescue. Thats what set up this main event match. However, with the violent nature of both Silva and Riggs in mind, Larkin decided to appoint a special guest referee, Vendetta, to the match, to try and keep the villains in order. In return for that stipulation though Riggs demanded that Ron Simmons' position as head of security be put on the line. Riggs says he and Silva are sick of the attack dogs being brought in just when two guys are ready to go, one-on-one. If Rigss and Silva win the match tonight, Rigss will become the new head of security.
The Match;
Silva and Riggs went after and injured the knee of the Patriot early on in this match. The Patriot "played Ricky Morton" for two long stretches that dominated the first 15 minutes of this match. Simmons resorted to entering the ring and breaking up the pins. Vendetta would play it square and intercept Simmons, but this still broke up the pin attempts. Soon all hell broke loose and the four men battled it out. Silva and Riggs threw the Patriot out of the ring, and he landed awkwardly, injuring his knee further. Simmons tried his best to beat the onslaught of 2-on-1 but was overmatched. Finally Vendetta lost his temper and went right at it with Silva. The two exchanged punches with Vendetta getting the better of it. The Haitian warrior then scooped up Silva for a Samoan drop, but as he moved the feet of Silva swung around and clocked Simmons in the back of the head. Simmons stumbled into Riggs, who chokeslammed him to the mat. Vendetta was confused, and angry, but after a few seconds of pause, finally counted a slow 1, 2, 3.
[Manny Silva & Adam Riggs defeated Ron Simmons & The Patriot by pinfall when Riggs pinned Simmons at 19:56 after a chokeslam]
Post-Match:
Riggs and Silva celebrated in the ring as Vendetta leaned heavily into the corner, his hands alternating between his head and his face, with a "what have I done" look. President Larkin came to the outside of the ring and berated Vendetta for the count, which just seemed to make the Haitian even more upset. Vendetta slipped out of the ring and went face to face with the President, finally pushing him to the ground before leaving.
In the meantime while Larkin wasnt looking Kimberly came down to the ring and entered in. She wrapped her arms around Riggs and gave him a big kiss. Riggs and Silva flanked Kimberly and each raised one of her arms. When Larkin turned around and saw his new executive assistant in the ring with the villains his jaw dropped to the ground.
FADE TO BLACK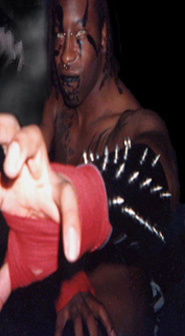 special guest referee, Vendetta