Preview: Announcers; Joe Aiello (play by play), Linley Tolbert (color commentary), Chris Champion & Pamela Paulshock (interviews).
The champion Brock Lesnar gets the night off from the ring after his big cage match victory last week against Adam Riggs. The Irish thug Adam Riggs though finds himself in another tough main event tonight as new MAPW commissioner Rowdy Roddy Piper has signed Riggs to finally have to meet Robert "Blaze" Bayley in their first rematch since Riggs injured Bayley and got himself suspended in the process.
Sam Holiday gets a television title shot at Tajiri, Scott Vick gets his former partner Billy Kidman in the ring, the Ultimo Dragon makes his first appearance in MAPW...and much more.
Opening Bout:
The Backbreakers: Dustin Rhodes & Chris Kanyon defeated Javier Reyes & Brandon Bricks by pinfall when Kanyon pinned Bricks after the flatliner at 6:45
-Reyes held his own in this match which really frustrated his opponents. Bricks though did not fair as well and fell victim to some double teaming. After the match Rhodes and Reyes had a bit of a staredown from across the ring. Finally with a nod Rhodes left the ring.
Pre-Match:
Sean Waltman comes out with a bag of Doritos and a Fresca. He sits down with a mic and begins to eat and drink. He takes time out, with Doritos and Fresca coming out of his mouth, to call out Asp Evergreen. He tells the truck to roll the tape and we see a bit of last week's adventures of Asp & Eddie where they talk about visiting China and kicking Waltman's ass. Waltman tells Asp he is here so come out.
Asp Evergreen comes to the ring looking kind of sheepish. He is wearing a shirt that says "Jos LeDuc; not as crazy as you think". Waltman tosses the Doritos and Fresca at Asp.
Asp] Dude, I like Diet Doctor Pepper not this crap...geezz
Waltman] You and your little circle jerk buddy there seem to like a lot of things, including my ex girlfriend.
Asp] She's hot
Waltman] You really want me to kick the hell out of you don't you?
Asp] No
Waltman] Then take it back
Asp] No
Waltman] Take it back you little creep
Asp] No...and I don't believe she was even a she...I think she was packing heat...and you liked it
Waltman can't take anymore and he goes right after Asp. The two begin to exchange kicks and punches with Waltman getting the better of it.
Referee James Beard comes down to the ring and calls for the bell, we have ourselves an impromptu match.
One half of the tag team champions...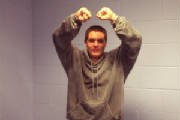 Asp Evergreen

Bout #2
Asp Evergreen v Sean Waltman
Waltman controlled the early going in this match, having the advantage from his pre-match attack. Waltman nailed Evegreen with a flying forearm, a Northern Lights suplex, and then a series of kicks from his educated feet. He tried for a pin but only got a 2 count. Evergreen made a comeback, gave Waltman a thumb to the eye followed by an atomic drop. He tossed Waltman to the floor and went for a plancha, but missed Waltman by a good two feet.
Waltman rolled back into the ring to beat the count, then rolled back out. He slammed Evergreen onto the announce table, hung his head over the edge, and dropped a pair of elbowdrops onto his sternum. He then grabbed him in an inverted facelock pulled him up from the table and suplexed him back down to the ground.
Waltman again slid back into the ring to break the count, then left the ring to retrieve his beaten opponent. He rolled Evergreen back into the ring and then humiliated him in the corner with a bronco buster.
Waltman set him up for the X-factor, when Eddie Chavez came down to ringside wearing a long black wig, and upper body stuffed with fake muscles, not to mention some extra junk in the trunk. His impression of Chyna got the desired effect from Waltman who chased Chavez around the ring. Finally Chavez rolled through the ring, and when Waltman followed he was caught by surprise by Evergreen with a clothesline. Evergreen rolled up Waltman got 1, 2, kickout. Both men scrambled to their feet. Evergreen went for another clothesline which Waltman ducked under, nailed a kick to the back of Evergreen, then hit him with a spinning heel kick. Evergreen got up, only to be demolished by the X-factor and pinned.
Sean Waltman defeated Asp Evergreen by pinfall after the X-Factor at 5:53
Post-Match:
Billy Kidman came from the back and caught Eddie Chavez trying to flee the scene. He nailed him with a flying clothesline and then dragged him to the ring. Waltman and Kidman continued to beat on the tag champions in the ring until Javier Reyes and Scott Vick showed up to make the save.

Bout #3
MAPW Women's Title Match
April Hunter defeated Christy Hemme by pinfall after the Widowermaker at 5:20
[April Hunter retains the MAPW Women's Title]
-rematch for Hemme, but in reality it is apparent that the women's division has moved beyond glamour girls like Hemme and Rena Mero. Hunter dominated most of this match.
Promo;
April Hunter was joined in the ring by Dana Hamm. Hunter threw out some venom towards Sarah Stock telling her that if she has anything to give, to bring it to the ring next week. Hunter says that if Stock accepts the challenge and can beat Hamm next week, then at Locked & Loaded on Nov 18th Stock can have a title shot against Hunter.
the MAPW Women's Champion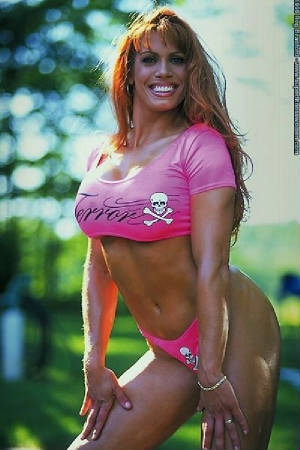 April Hunter

Bout #4
Ultimo Dragon defeated Mentallo by pinfall after a springboard moonsault at 7:09
-lots of flippy, floppy stuff and chain wrestling on the mat. Mentallo faced his hero after a handshake to start the match, and both fought with honor and desire.
<<< cue "the Bagpipes" >>>
Interview:
New commissioner Rowdy Roddy Piper comes to the ring. He says he has a special announcement for tonight's main event. Piper seems even more manic then ever, and chalks it up to his giddyness over the surprise. Piper says he is bringing in a special ringside enforcer for tonight's match between Robert Blaze Bayley and Adam Riggs. None other then former NWA World Champion Brandon Myers!!
~the fans give the announcement a mixture of cheers and jeers~
Piper says, now just wait a minute. Myers is a good guy and is excited to be returning to MAPW, we're lucky to have him.
<<< cue "Ain't Going Down 'till the Sun Comes Up" by Garth Brooks >>>
The fans cheer as Sam Holiday, the former commish makes his way to the ring. He's wearing a Brooks & Dunn t-shirt, blue jeans, cowboy hat and boots.
Piper] Well hello Tex...I sure hope your just out here a little early for your TV title match against Tajiri..which by the way I arranged..because if your out here to meddle in my affairs that might be a mistake.
Holiday] Hey Piper, I know your the commish, and you were my top choice for that but I have to ask you here, why do you need a special enforcer? I mean Adam Riggs doesn't have a friend in the world left, nevermind in MAPW. Blaze can take care of himself, and he's got me and DDP watching his back. I mean, Myers??
Piper] See I must be hard of hearing..that sounded to me like meddling...are you meddling in my affairs son?
Holiday] I ain't your son...
Piper] No kidding, I mean I don't remember feeding you with a slingshot..but serious here...listen...I have a plan, I know what I'm doing. I don't trust Riggs..
Holiday] But you trust Myers?
Piper] Yeah...I do actually...now why don't you go save a horse and head backstage for some little groupie to ride...nah I'm just kidding with you Tex...still friends? want some gum?
Holiday doesn't know quite what to say, so he just gives Piper a stern look, and rolls out of the ring.
Piper] Now then, Myers hasn't arrived yet, but that's no surprise to me...but he'll be here for the main event as the special enforcer, and you'll all see, and Holiday will see that Rowdy Roddy Piper has a plan...because you know, the whole changing the questions thing...I don't think like you do Holiday...in fact I don't think I think like anyone else..you'll see tonight.

Lock & Load

November 18th, 2006....3 Hour special
Promo:
Mike Tyson reminds fans that he will be stepping into the ring at Lock & Load two weeks from tonight in his first pro wrestling match.
He says that he is going to demolish whoever he chooses to face.

Bout #5
Scott Vick defeated Billy Kidman by reverse decision at 7:37
-Vick channeled his anger to control most of the match against Kidman. Kidman though also had his moments. In the end Kidman orchestrated a ref bump to knock out Tony Zerucha, and then Sean Waltman hit the ring and helped Kidman finish off Vick. Zerucha recovered and made the pin. However, after having declared Kidman the winner, Kidman and Waltman continued to beat up on Vick. When Zerucha tried to get them to back off they shoved Zerucha, not once, but twice to the canvas. That's when the rookie referee earned his stripes and reversed the decision giving the win to Vick.
Post-Match:
The tag team champions Asp Evergreen and Eddie Chavez were Johnny on the spot coming out to make the save.
Promo;
The MAPW Heavyweight champion Brock Lesnar and Rena Mero came to the ring. They basically gloated over their victory against Adam Riggs last week, and made sure that everyone knew their thoughts as to Lesnar being the greatest wrestler in the history of amateur and professional wrestling. Lesnar finishes by throwing out that he isn't afraid of Mike Tyson, and that if that has-been wants a shot at Brock at Lock & Load then all he has to do is ask.

Bout #6
MAPW Television Title
Yoshihiro Tajiri (champion) v Sam Holiday
A match of contrasting styles. Holiday's style took over first with a series of standing headlocks, waistlock takedowns, an abdominal stretch, and a sleeperhold. Tajiri though battled back with some martial arts strikes, a dragon suplex, and the tarantula. Holiday then fought back with elbows, forearms, and a flying cross bodyblock, for a 2 count. He tried to follow up with a suplex but Tajiri blocked it and took Holiday over with a snap suplex, for a 1 count. Both men scrambled to their feet, Tajiri tried for a spinning kick that Holiday blocked, and then took the champ down with a short lariat. Tajiri got up only to be taken down again with a DDT. Holiday made the pin, 1, 2, KICKOUT!! Holiday tried to scoop Tajiri back up but the champ nailed him with a blatant lowblow. The ref tried to give Holiday a few seconds to recover, but in the meantime Tajiri walked up and nailed Holiday in the family jewels a second time causing the intentional disqualification.
Sam Holiday defeated Yoshihiro Tajiri by disqualification after a low blow at 7:58
[Tajiri retained the MAPW Television Title]
Promo;
December 2006 MAPW Presents...
THE 27TH ANNIVERSARY SPECTACULAR
Mid-America, the proving grounds of professional wrestling since 1980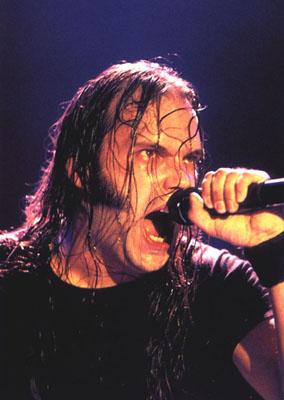 Robert "Blaze" Bayley
Pre-Match:
Referee James Beard comes out first for the Main Event match between Adam Riggs and Blaze Bayley.
Next we get a nice recap of how Riggs injured Bayley and was subsequently suspended, removing both of them from MAPW for several months. This is their first in ring meeting since that malicious act.
<<< cue "Blaze" by Tenth Dimension >>>
The fans cheer as iconic Robert "Blaze" Bayley makes his way to the ring. For many years this superstar of the NWA, WWA, and PWA was too big for MAPW, but with all the changes in the wrestling landscape over the past few years the talent pool in MAPW is now as deep as it has been since 1985.
<<< cue "Phenomenol" by LL Cool J >>>
As loud as the fans cheered for Blaze they jeered even louder and with more passion against the Irish thug, the self proclaimed phenom of pro wrestling, and the biggest bigot this side of David Duke you will ever find...Adam Riggs.
Riggs stops outside the ring, refusing to enter. Bayley tries to leave the ring to get at him but Beard does enough to stall him until,
<<< cue "the Bagpipes" >>>
The fans cheer as the commissioner Rowdy Roddy Piper comes down to the ring. He tells both Bayley and Riggs to hold on a minute, he wants to introduce the special enforcer for tonight, someone they are both familiar with. Someone they have both fought in the NWA, PWA, and WWA. A former NWA champion, Brandon Myers.
<<< cue "Devil Went Down To Georgia" by Primus >>>
There is about a 10 second pause to build up the anticipation as the crowd buzzes, some cheer, some boo. Suddenly the carpet parts and down the ramp comes the familiar face of Brandon Myers...in a electric wheelchair.
The fans are in a state of shock. Some chant derogatory things at Myers, assuming this is some sort of hoax. Even the usual unflappable Adam Riggs is in stony silence. Piper leaves the ring with the mic and meets up with Myers on the floor.
Myers] thanks Roddy, you are a true friend indeed. You see fellas, Piper is worried about you two, and the other athletes in the back. Sure MAPW isn't "extreme" and there are far more violent things going on out there, but still, its a dangerous sport even at its most basic form. Look at the long list of overdoses and pre-mature heartattacks. Bayley man, face it, you are growing old, and if the injuries keep piling up your arthritis is going to cripple you, or your going to get hooked on pain killers, if you aren't already. Riggs, man, one day if some jealous husband with a shotgun doesn't do it first, someone is going to cripple you in the ring out of spite...maybe that someone will be Brock Lesnar. I'm here at ringside today to remind you guys of what will happen if you let things get out of hand, tonight, tomorrow, and the days to follow. As for me, well this is a result of bad living, lots of pain killers, and trying to water ski too close to a dock with a vodka sour in one hand. But the truth is that if it hadn't happened that day in Florida, it would have happened in some motel room, because there was too much pain.
Riggs walks out to check on Myers. He takes the mic.
Riggs] Man that is one sorry state that you are in. I always thought you were a punk, but I didn't know you were a charity case. How much is Piper paying you for this? You disgust me Myers..go back to the hospital with all the other cripples. And make room for another invalid coming tonight by the name of Blazing Gayley, because all seeing you does for me is to give me a goal for tonight to make my opponent join you.
Riggs then gives Myers a kick in the shins and laughs at him saying "you can't even feel that you waste of oxygen".
Riggs' fun is interupted by a right hand from Blaze Bayley to the side of the head. Blaze grabs Riggs and bounces his head off the top of the guardrail, then tosses him into the ring. The bell rings to start the match.
Main Event
Robert "Blaze" Bayley v Adam Riggs
Bayley has the advantage and preses with punches and kicks, but also a flying backelbow, belly to belly suplex, and a kneedrop from the top rope. He doesn't even go for the pin though as he knows how tough it is to pin Riggs.
Bayley nails a dropkick but when he goes for a second Riggs grabs onto the top rope and Bayley hits nothing but air. Riggs lays the boots to Bayley. He lifts him up only to drive his thumb to the throat, and then nail him with a swinging punch that drapes Bayley over the top rope. Riggs lifts up Bayley's feet to choke him over the top strand before using the ropes to catapult Blaze back to the middle of the ring. Riggs scoops up Bayley and after showing off his stength drops him backward to the mat. Again Riggs resorts to a series of stomps, and then gets down to the mat to choke Bayley.
The Irish thug picks up Blaze and throws him through the second and third ropes to the floor below. He follows and bodyslams Bayley right on top of the ringsteps. He then lays the ringsteps on top of Bayley and climbs to the ring aporn. Referee Beard pulls the steps off of Bayley just in time and Riggs lands on Bayley's chest with a stomp. Riggs wastes time jawing with Beard, and then dragging Bayley by the ankle over to Brandon Myers and telling Bayley to take a long look at his next roommate.
Back inside the ring Riggs applies a bearhug with Bayley suspended in the air. Bayley has a bit of fight left in him and after a few weak shots to the head of Riggs, the Irishman is annoyed and suplexes Bayley over to the mat, pins, 1, 2 Kickout.
Riggs continues to punish Bayley for a couple more minutes working over primarily his back, even using the ringpost as an anchor as he pulled on the legs and arms of Bayley while standing outside the ring.
From his knees Bayley began his slow comeback. He attacked the inner thigh of Riggs with some punches, and then he bit Riggs in the thigh. He pulled down the larger man to the mat and put on an STF for a few seconds before Riggs was able to break it.
Bayley gets to his feet and then hits Riggs with a front layout suplex, but doesn't get full elevation because of his aching back. Bayley comes off the ropes and catches Riggs with a flying knee to the chest. He then lays in some mounted punches on Riggs, bouncing the Irishman's head off the mat. Bayley is on fire sending Riggs to the ropes and taking him down with a spinebuster slam. He crisscrosses the ropes and then nails Riggs with a kneedrop to the forehead. Riggs' head pops up off the mat from the force of the blow, and then bounces back down.
Dan Severn suddenly appears at ringside. Severn climbs onto the ring apron distracting referee James Beard. Severn's protege The Stalk comes from the other side of the ring. Severn even tries to grab the arm of Beard, but the ref spins away from the grab, and sees Stalk on the other side. The veteran ref stands in the middle of the ring trying to warn both Severn and Stalk to stay out of the ring. Bayley had been applying the pin but with no count he looks up, and then gets up to confront Severn.
Bayley and Severn begin to trade punches, with Severn on the ring apron. Beard starts to apply a count to Stalk to get off the ring apron.
The announcers are going berserk as April Hunter rolls into the ring from the other side. She nails Bayley with her Running Standing Somersault Neckbreaker, and he is out cold. Beard didn't see a thing.
Severn, Stalk, and Hunter withdraw. After a few seconds Riggs manages to be the first one up, and drapes an arm over Bayley. Beard reluctantly applies the count, 1, 2, 3 !!
Adam Riggs defeated Blaze Bayley by pinfall after outside interference at 14:12
Post-Match:
The fans are jeering and throwing debris at the ring. Adam Riggs gets to his knees and has his arm raised briefly by Beard who then tries to drag Bayley out of the ring, rightfully smelling trouble.
April Hunter is joined by Dana Hamm, Dan Severn, and the Stalk inside the ring. Severn menaces Beard who reluctantly leaves the ring without Bayley. The four of them wait until Riggs is back on his feet. The Irishman gives the thumbs down signal and Hunter, Hamm, and the Stalk descend on Bayley like a pack of wolves.
The crowd errupts as Sam Holiday, Diamond Dallas Page, and Sean O'Haire hit the ring. They begin to clean house but it doesn't last. Riggs catches DDP from behind with a lowblow, and then helps Severn double team O'Haire. In the meantime Holiday pauses because he refuses to fully fight back against women, so Hamm and Hunter lay in some licks while he just defends himself and tries to get to the aid of Bayley who is currently suffering in an armbar being applied by the Stalk.
It's complete mayhem, and then the fans errupt as Rowdy Roddy Piper makes his way down to the ring...
As we Fade to Black