Opening Bout
Sean Waltman v Billy Kidman
Sick Scott Vick tried to stay out with his partner Kidman but was sent to the back by rookie referee Tony Zerucha. Kidman went right after Waltman before the opening bell. After working him over inside the ring he threw him over the top and then flew after him with a head tope. Back inside he failed to get a 3 count and when he tried to throw Waltman over again, Sean held onto the top rope and pulled himself back inside. He then caught Kidman from behind with a clothesline and took over control of the match. After setting him up Waltman tried to finish off Kidman with his own finisher the 5 Star splash, but Kidman was aware of it and rolled out of the way. The two then knocked the match down to a bare knuckles fist fight which traded momentum back and forth. Sick Scott Vick though came down to the ringside unseen by Zerucha and at the right moment managed to trip up Waltman coming off the ropes. Kidman nailed a guillotine legdrop, and then finished off Waltman with his opponent's finisher the X-factor.
Billy Kidman defeated Sean Waltman by pinfall after the X-factor at 5:57
Post-Match:
Chris Champion came out to the ring and caught Kidman and Vick before they left. He asked Kidman point blank if he had made up his mind on whether he was going to ditch Vick in favor of Waltman. Scott Vick though grabbed the mic from Champion before Kidman could answer. Vick said he just go this answer, together they make a great team, and Waltman is a loser, just like he lost this match. Kidman though looks a bit taken back by Vick grabbing the mic and says very slowly to Champion and Vick, that no, he has NOT made up his mind. He then just drops the mic and rolls out of the ring alone.
Interview:
Next up is MAPW commissioner Sam Holiday. Holiday says last week's main event was not a fair rendering of title shots deserved by the men involved as Riggs just got himself disqualified costing both Piper and Page their shot at the title as well. So tonight we are going to bring those four men together in the ring once again, but this time in a tag team match instead of a 4-way battle. It will be MAPW champion Brock Lesnar tagging with Adam Riggs, against the team of Roddy Piper and Diamond Dallas Page. If Piper or Page gets the win then the one scoring the pinfall will get a title shot next week. If Lesnar and Riggs win the match then Riggs will get the title shot next week.

Bout #2
Dustin Rhodes v Asp Evergreen
If Rhodes could come up with a singles victory tonight against Evergreen it would bode well for the chances of the Backbreakers getting another title shot against Evergreen and Chavez. Both Chavez and Chris Kanyon came out with their tag partners with Rhodes ordering that Kanyon not watch the match but stand guard in case April Hunter decided to interfere again in one of his match. This plan though was for naught as referee Buddy Lane ordered both Kanyon and Chavez to the back.
Evergreen started with a couple forearm smashes to Rhodes who just shook them off, wrapped his hands around the smaller man's neck, lifted him off the ground, shook him, and tossed him to the mat. Evergreen regrouped in the corner. He then pointed at Rhodes and indicated he was going to press him above his head. Rhodes indicated "give it your best shot" and even turned his back to Evergreen. The tag champion approached him only to have Rhodes spin around and clock him with a clubbing right hand. He then laid in some of his signature hard punches, pounding his foot on the mat after each one. Evergreen was punched back to the far corner and was saved when Buddy Lane got between the men and backed Rhodes off. Even after this though Evergreen was still pounding the mat with his foot and tossing his head from side to side until Buddy Lane grabbed him by the shoulders to snap him out of it.
Rhodes ran him with a knee to the gut, bieled him out of the corner and then kicked him in the spine. A couple of knee drops later and Rhodes got a 1 count.
The Texan continued to punish Evergreen but couldn't put him away. Just as he was getting ready to set hm up for a superplex from the back came a redhead. Rhodes starred, thinking probably for half a second it was April Hunter, until it became obvious that it was actually Eddie Chavez in a red wig and stuffing in the chest of his shirt. This was long enough though for Evergreen to spin Rhodes into the corner and start to drive his shoulder into his gut over and over again. Finally Buddy Lane made him break that. Evergreen tried to monkey flip Rhodes out of the corner but Rhodes held on and flipped Evergeen out instead. He then ran at him for a running lariat but Evergreen moved out of the way and countered with a sleeperhold. But after a couple seconds Rhodes was able to counter that with a jawbreaker, followed by an inverted DDT for the victory.
Dustin Rhodes defeated Asp Evergreen by pinfall after an inverted DDT at 5:17
Post-Match:
Chris Kanyon came out and attacked Eddie Chavez from behind. Rhodes joined him outside the ring. They pulled up the mat from ringside exposing the concrete below. Rhodes lifted him up in a piledriver position while Kanyon came off the ring apron pushing down on Chavez' feet. They delivered the stuffed piledriver on the bare concrete and got the expected results, Chavez wearing a crimson mask to match the red wig.
Asp Evergreen...tag team champion

Bout #3
#1 Contenders Match for the Television Title
Petey Williams defeated Abe Brewer by pinfall after the Canadian Destroyer at 6:02
Interview:
Adam Riggs is interviewed by Chris Champion until the first time that Champion opens his mouth. Riggs threatens to mame him if he talks again after which Champion just stands there with the mic. Riggs isn't happy with the tag match tonight because again his fate lies with someone else, in this case the very man he is trying to unrest Brock Lesnar. Riggs says he is willing to play this game for now, but if they lose tonight because of Lesnar then the gloves come off and he will hurt anyone that gets between him and Lesnar, and that includes Rena Mero.
"Does that include me?", the fans errupt as a spotlight suddenly catches Robert "Blaze" Bayley standing in the crowd. He reminds Riggs that he's back from the injuries he sustained at Rigg's hands, and unlike Riggs he isn't held back by desire for the championship. The gloves are already off, they were off with every painful repetition he did in therapy to get back as early as this. They were off when he signed his waiver to the insurance company to come back early. And they will be off tonight in the main event if he tries anything to his friends Diamond Dallas Page and Rowdy Roddy Piper like he did to him.
Riggs just calls Bayley a few homophobic names and challenges him to come to the ring now. Bayley just shakes his head and smiles, "it's not time yet."

Bout #4
MAPW Women's Championship
Dawn Marie (champion) v April Hunter
The usual happened with Dawn Marie coming down to the ring with Christy Hemme, and Hunter coming down with Dana Hamm but neither lady even made an effort at trying to stick around ringside for the match.
Hunter tried to attack Dawn before the opening bell but the champion was ready with a fist to the gut. She started like a house o' fire with some knees and side kicks. But when she tried for a faceslam Hunter used her power to block the move, and counter with a bodyslam. It was Hunter's turn now to go to work on the champion and she was very impressive. It was obvious that Hunter could fare well against men, never mind the MAPW "Divas". Hunter hit a hurrancanrana and was closing in for the kill...but Dustin Rhodes suddenly slid into the ring and clotheslined Hunter from behind.
Dawn Marie and April Hunter battled to a no-contest at 4:57
[Dawn Marie retains the MAPW Women's Championship]
Post-Match:
Rhodes locked Hunter in a full nelson and was shaking her around, also rubbing his crotch against her backside. From the back came Dana Hamm with a chair and nailed Rhodes in the back. Hamm then dragged Hunter out of the ring and helped her to the back.
Interview:
Chris Champion returns to the ring to interview Diamond Dallas Page, who is joined by his wife/valet Kimberly Page. Champion digs at DDP asking him if he will allow Roddy Piper to get the pin if he is in position, or if he will stop his partner. DDP says he has no problem with Piper getting the title shot and won't stop him. So Champion changes the question a bit and asks if DDP will be less likely then normal to tag out if he has his opponent in trouble? DDP thinks about it for a second before answering that in truth, yeah, he might try and finish off the opponent himself. But before allowing Champion to gloat too much he says tht once he is in there things tend to change. He'll probably forget all about the title shot and be going for a team victory just like any other outing. Champion again changes the question by asking what DDP will do if Piper tries to stop him from getting his title shot? DDP hesitates, unsure what to say. Finally he just looks determined and says "that won't happen". Kimberly just stands there looking hot.
[end of first hour]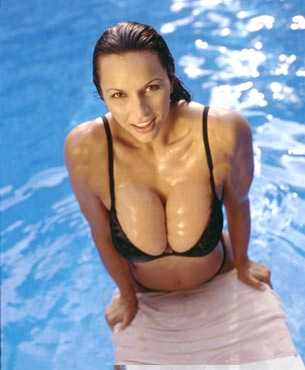 Interview:
The fans go crazy as "Rowdy" Roddy Piper comes to the ring accompanied by his bagpipe music.
Chris Champion interviews Piper much like he interviewed Page, trying to antagonize him. Piper is a bit more forthcoming saying that he wants the pinfall and will take it if he gets a chance. He calls DDP getting the title shot the second best outcome. He then gets into his impression of Brock Lesnar, and calling him a roided up chipmunk.
Just as they are finishing up the interview Brock Lesnar comes out and attacks Piper from behind. He lays a beating into Piper that leaves him lying before Sean O'Haire finally shows up to save his mentor.
Bout #5
Robert "Blaze" Bayley defeated Vance Nevada by pinfall after the Blaze Bomb at 4:12
-a successful return to the ring for Bayley following his injury at the hands of Adam Riggs.
Promo;
We are shown footage of Roddy Piper being helped into an ambulance by Sean O'Haire. Piper tells his protege that he (Piper) had taken O'Haire's place in the battle royal to earn a title shot. Now it was O'Haire's turn to take his place in the main event tonight and earn his own title shot. O'Haire says he's still not 100% after his own injuries, and suggests it might be better if Piper was replaced by DDP's friend Blaze Bayley. Piper just shakes his head and grabs onto O'Haire. He tells O'Haire this is their shot, not Page's, so go earn it. O'Haire nods ascent.

Bout #6
Sam Holiday v The Stalk (/w Dan Severn)
Holiday is himself tall and lanky but not to the degree of the Stalk. Holiday started by trying to out wrestle The Stalk which was a huge mistake as the MMA trained fighter was able to quickly lock-up Holiday and work him over on the mat. Holiday however knows pro wrestling and was able to somersault out of an armbar, and put on an armbar of his own. Holiday went to work on the Stalk with a bodyslam, kneedrops, and a belly-to-belly suplex. The fans were not into this match at all and some chants of boring were heard in the arena. The match picked up a bit when it turned to a brawl, but here again The Stalk was the better man landing some tremendous punches followed up with a roundhouse kick. He covered but only got a 2 count.
Holiday battled back and hurt Stalk with an airplane spin toss. He climbed to the top turnbuckle but Dan Severn jumped up on the ring apron causing Holiday to pause. He had to abandon the move and go after Stalk in the middle of the ring as he got to his feet. A forearm uppercut was blocked by Stalk and quickly followed up with a suplex, Stalk sticking his head under Holiday's arm and whipping him over. Stalk then applies a bridging double armbar and Holiday is in too much pain and cries uncle.
The Stalk defeated Sam Holiday by submission with a bridging double armbar at 7:29
Post-Match:
Dan Severn and The Stalk are interviewed by Pamela Paulshock. Stalk is quite distracted by the bikini top of Pamela but it doesn't seem to phase Severn one bit. The manager is asked by Paulshock what's next for the protege, asking if he will be going after the TV title held by Tajiri. Severn just regards her with disdain and says that they will be going after nothing short of the Heavyweight title held by Brock Lesnar.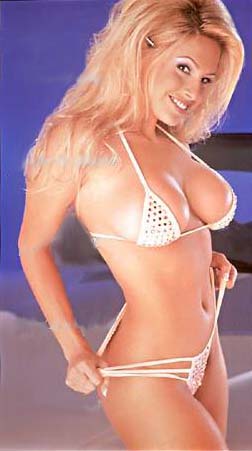 Pamela Paulshock

Main Event
Tag Team Match
Brock Lesnar & Adam Riggs (/w Rena Mero)
v
Diamond Dallas Page & Sean O'Haire (/w Kimberly Page)
Lesnar insisted on starting the match which almost got Lesnar and Riggs into a battle, but Riggs ended up relenting. DDP started and Lesnar made the mistake of thinking of locking up. DDP threw a quick jab, catching Lesnar in the jaw, and followed up with a couple more and then a short lariat to rock Lesnar back to the ropes. The champ is a hoss though and he just spun DDP around and blasted back with fists, and then a fireman's carry. Trying for his F5 finisher early but it was blocked when DDP grabbed onto the top rope.
Riggs tagged in off of Lesnar's back and went right to work on DDP. Riggs told Rena Mero to come up on the ring apron, but it was just a distraction as referee James Beard warned Mero to stay put it allowed Riggs to choke DDP, and then slam him to the mat by the throat. Riggs then dropped a knee into the "lower" abdomen of DDP. Page continued to play Ricky Morton for a couple minutes before he was finally able to tag out to O'Haire. Sean backed Riggs into the corner, where the Irish thug was blind tagged in by Lesnar who caught O'Haire from behind with a knee to the lower back. Lesnar worked over O'Haire with a couple suplexes before Piper's protege was able to turn things around with a short clothesline and a DDT. He tagged out to DDP.
Page went right to work on Lesnar and then after a minute made the quick tag to O'Haire holding Lesnar's arm out while his partner came off the second turnbuckle right onto the champ's arm. O'Haire continued to work on Lesnar and looked like he was going to tag in DDP but then seemed to change his mind, dragging Lesnar to the middle of the ring instead. The champ though then reached up and popped O'Haire in the gut, and rolled him up for a 2 count. Lesnar followed up with a clothesline. He nailed O'Haire with the F5 and would have got the pin but DDP broke it up with a kick to the head. This brought in Riggs and we had a 4 man brawl. With O'Haire already hurting it was easy pickings for Riggs and Lesnar to double team DDP. But then Lesnar made the mistake of turning his back on the Irish thug who nailed his own partner Lesnar from behind. Riggs then dragged the champ to the corner and made the tag on his dazed partner's arm.. Rena Mero made the mistake of entering the ring to screaml at Riggs for what he did to her man Lesnar, who just tossed her right out of the ring. DDP got back onto the apron but Riggs nailed him back down with a boot to the face. Lesnar then got to his feet and tried to spear his own partner Riggs from behind but the Irishman moved out of the way, and Lesnar hit the buckle hard. Riggs tossed Lesnar to the floor below. O'Haire staggered to his feet but Riggs just put him in a fireman's carry and propped him onto the top buckle. He brought him down with the Phenomenal Performance and made the pin.
Brock Lesnar & Adam Riggs defeated Diamond Dallas Page & Sean O'Haire by pinfall when Riggs pinned O'Haire after the Phenomenal Performance at 10:04
Post-Match:
Adam Riggs celebrated by himself in the ring for a second before Blaze Bayley rolled into the ring. He spun Riggs around and started to lay in punches. He tried to whip Riggs to the far ropes but the Irish thug reversed it. He caught Bayley with a kick to the gut. He lifted him up for a jacknife powerbomb but Bayley laid in some punches to the head of Riggs that drove him down to the mat. Within seconds Brock Lesnar, DDP and Sean O'Haire were all in the ring and a mass melee broke out. DDP, O'Haire and Bayley managed to clear the ring of Lesnar and Riggs, but then DDP and O'Haire began to argue over O'Haire not tagging in DDP. Outside Lesnar and Riggs went right after each other and fought over to the announce table. Riggs managed to scoop up the belt and smash it across the skull of the champion Lesnar. However, he was then surprised when Bayley defied his age and flew between the second and top ropes and nailed Riggs to the mat.
Inside the ring without Bayley to try and calm down DDP and O'Haire the two fan favorites got into a pushing match. When Kimberly tried to step between then and O'Haire held her off with his arm it was the breaking point for Dallas who then popped O'Haire. He followed up with a Diamond Cutter leaving O'Haire laying face down on the mat as we...
FADE TO BLACK