2 Hour Edition of RAGE in Syndication
Taped Wednesday, August 18th
Air Date, Saturday August 21st, 2004
Newman Outdoor Field,
Fargo, North Dakota
Attendence: 1,149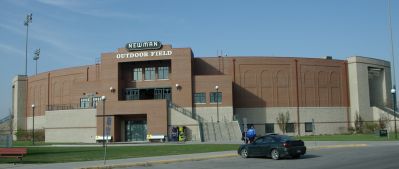 Statement from MAPW President Jack Larkin.
Larkin makes his statement sitting behind a desk, occasionally pausing to look down at his notes.
Larkin] Hello fans of NWA wrestling in middle America. Before we get you to all the great MAPW Rage action tonight I need to make a statement for the wrestlers, the fans, and my fellow promoters in the NWA. Recently the WWF and the WCW put pressure on and then bought out COMPLEX wrestling in California. From this situation came several remarks about opening up the possibility for promotions such as MAPW, and IWL, amongst others to step up a notch. Well as you may know or perhaps not, each member of the NWA is given a charter which includes a stated area of operations. Ours of course is certain states in the mid-west of America. Only WWF and WCW have a charter to compete anywhere they choose. Under these conditions it is virtually impossible for other independents to "step up" to solidify a 3rd position. And that is not our goal. My goals for MAPW are several fold but have not changed. They are to provide quality wrestling and stories to our fans, to be consistent, to persevere, and eventually to be financially viable. I think we at MAPW are well on the way to accomplishing our goals. However, my original projections showed an anticipated loss for 2004 of around $900,000. My projections now show us losing around $1.4 million, and that will be only being in business 7 months this year. At this point I can't see MAPW losing less than a million dollars a year in 2005, and again in 2006. That is fine. I have the financial backing to put up with those numbers as long as the future remains bright.
Now, when I reopened MAPW in 2004 I also had another goal in mind. That goal was to continue the traditions and do tribute to the World Wrestling Alliance (WWA) and Pro Wrestling Alliance (PWA), and the work of specifically John Fredrickson, Chris Champion, and Carl Todd.
I am not sure whether I have been successful in that regard or not, but I know that I am trying my best to work with both the stars of the past like Dan Severn, Shawn Michaels, Kai Hanson, and Raymond Bingham, as well as our own mid-western stars like the Spinebusters, Vendetta, and Manny Silva. I would point out that while groups like COMPLEX have done a wonderful job of creating new stars, only MAPW and WCW seem interested in preserving the work of the past founders. That is not to say which way is right and which is wrong, but sometimes I do wish I had more fellow promoters who shared my views.
So while I have no intention of driving this MAPW vehicle across North America, I do feel the need to state publically the steps I have taken to open that door in the future, as well as to preserve the past.
Prior to the reformation of the National Wrestling Alliance I had been in contact with Chris Champion. I have correspondence with Mr. Champion dated March 15th 2004 that explicitly gave me the rights to use and reform the Pro Wrestling Alliance (PWA). My initial thoughts were to try and get as many promoters involved as possible. Maybe to make PWA an "all-star" show with various writers and promotions involved, but with an emphasis on the old PWA-WWA wrestlers. Before that ball got rolling however, the NWA was formed and I was thrilled to join and get MAPW started again. I am still very happy with the status of MAPW as well as it's role in the NWA.
However, after the talk of WCW and WWF about a 3rd power stepping forward I felt it necessary to stake my claim to the PWA name. I do not pretend to own the name, and my lawyers are standing by ready to try and ascertain whether Mr. Champion even has the right to license the name to myself for use. However at this point I feel that I do have the license for the name, or at least to stop anyone else from using it. Like I have stated I do not have immediate plans to open up PWA again. But I have to admit that late at night I often put in an old PWA tape and watch, remembering the glory, and begin to think about it once more.
I am not trying to cause any trouble with the NWA head office, nor my fellow NWA promoters, nor the founding fathers. In contrast I hope that my fellow promoters would join me in any efforts to preserve the PWA name and legacy.
In that vein, MAPW would like to announce a tag team tournament to be held on Sunday October 16th & 17th in St. Paul, Mn, to be called the John Fredrickson/Chris Champion Cup. The focus of this tournament will be to bring in many of the stars who wrestled for these two men as well as some of the great young stars of the current NWA promoters. Some of the tag teams will be reforming old alliances, while others will be based on new developments in the wrestling world, and still others will be randomly matched up. The tournament will feature somewhere between 32-64 teams, with some first round byes being a possibility. I will be in contact with individual promoters as to what talent would best fit into this tournament and hope for their support.
In conclusion, I hope that my fellow promoters, as well as the wrestlers and fans, will continue to support my efforts to keep the old flames alive and will not take my claim to preserve the PWA name as being a powerplay.
Thank you and have a good night.

We go to Joe Aiello & Linley Tolbert standing to the side of the ring.
Aiello] Hello fans! As you can see it is a really blustery day out here, and it's really going to make things difficult for both the wrestlers who like to go airborne, as well as you Tolbert to try and keep that rug on your head.
Tolbert] It might be tough for you Joe to keep that head on your shoulders if you insult me one more time. I love this weather, it will totally ground the spot machine youngsters, although we don't have many athletes like that in MAPW anyway. One other thing this weather has done Joe is kept the people away in droves.
Aiello] You are right on there Linley. This place holds about 5,000 people for wrestling, and we expected a crowd of around 3,000 tonight based on pre-event sales of almost 2,000 tickets. However, as we look around tonight we will be lucky if we get 2,000 people here. They even gave up trying to set up the "gold" ticket tables around ringside and relocated those premium seats to some unsold luxury boxes where those fans could get out of the inclimant weather even if it does take them further from the action. But the show goes on here in MAPW and we have a great card lined up for you tonight!

<<< cue "Till it Sleeps" by Metallica >>>
The Spinebusters get a mix of cheers and jeers as they make their way to the ring, pointing to their waists where the NWA World Tag Team titles are supposed to be.
Orth] Team Extreme! At Night of Champions you screwed us out of the Mid-American titles, and if not for a technicallity it would have been the World titles too. We shave strugged together as a team too many years, working too many bingo halls and armories to build ourselves up to this level, to let you two lunatics tear it all down in one week. So you know the ultimatum, bring back our titles NOW! We are signed for a re-match for the MAPW titles right NOW!
<<< cue "Psycho Man" by Black Sabbath >>>
Kit Carson and Khris Germany come to the ring. They are wearing the MAPW titles around their waists and are carrying the folded up NWA World Titles in their hands. They enter the ring and Carson has a mic.
Carson] You two still belong in bingo halls. It's more a statement on how weak the NWA stands then how far you two have risen over the years. You want these pieces of tin you can have them back. You will need them for the what? 3 or 4 bookings a month that you get? What a joke.
With that Carson and Germany throw the belts down at the feet of the Spinebusters. As they bounce off the canvas we see that the belts have been defaced with graffiti.
The Spinebusters glance down at the belts but only for a second before staring at their adversaries once again.
Caruthers] Pick...up...those...belts...NOW !
The crowd pops big cheering for the former champs.
Team Extreme laughs at the 'busters.
Orth and Caruthers look at each other, shrug, sigh, and then bend down to pick up the belts. Carson and Germany see the opening they were anticipating and attempt to attack. But the Spinebusters saw it coming from a mile away, and both lunge forward catching their opponents in the gut with a shoulder.
The NWA champs tackle the MAPW champs to the ground and begin to flail away as referee Buddy Lane calls for the bell and to start the match.
MAPW Tag Team Title Match
Team Extreme: Khris Germany & Kit Carson (c)
v
The Spinebusters: Bryan Caruthers & Jerry Orth
The Spinebusters fuel their anger right off the bat by actually being even more aggresive then the ultra-wound up Team Extreme, even forcing their opponents into an uncustomary defensive position.
However, Germany & Carson continue to battle and it's their experienced brawling matching up against the 'busters mat skills and ability to counter just about anything thrown at them.
When Carson tried to nail Caruthers with a chair outside the ring he fell victim to a blindside dropkick off the ring apron by Jerry Orth instead. When Team Extreme pulled a fire extinguisher from under the ring and attempted to open it up in the face of Jerry Orth nothing but confetti sprayed out getting a good laugh from both the crowd and the Spinebusters.
The 'busters soon took control of the ring again, cutting it in half and punishing Kit Carson continually. They waited for Germany to interfere and then take the opporunity for a double team. The crowd was now cheering rabidly for the Spinebusters in what seemed to many to be a scene right out of the Twilight Zone.
Caruthers punished Carson with a DDT, and got a 2 count. He followed this up with his Spinebuster slam finisher but Germany interfered to break up the count. The 'busters then used that opportunity to deliver a double stuff piledriver on the champions and looked poised to win back their belts. Germany however had gone out and found a reinforcement. He rushed the ring again to break up the pinfall but this time brought in a steel chair, smashing first Caruthers then Orth. The Spinebusters had no choice but to bail out of the ring to prevent further chair shots.
The Spinebusters defeated Team Extreme by disqualification when Khris Germany was Dq'd for using a steel chair at 14:39.
[Team Extreme retains the MAPW titles]
Post-Match:
The Spinebusters are livid and demand a re-match next week.
<<< cue "Won't Get Fooled Again" by The Who >>>
Commissioner Bob Backlund and his executive assistant Debra McMichaels come out to the top of the ramp. Backlund apologizes to the Spinebusters, saying they deserve a re-match but that another match has already been signed for next week. At Night of Champions 2, the duo of Sam Holiday & Al Hardamann won the #1 contender spot and will have their shot next week. However, Backlund promises the Spinebusters they will get another shot soon.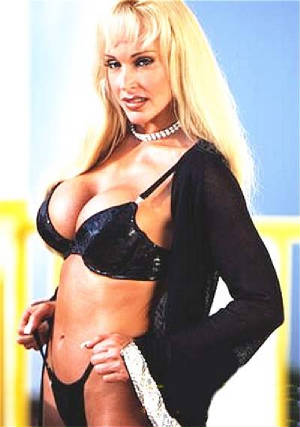 Debra McMichaels

NWA World Junior Heavyweight Title Match
Rey Mysterio Jr. (c)
v
Jamie Knoble (/w Sable)
Some high flying moves to start with neither man managing to come away with any real advantage. Knoble turned the match into a brawl, and Mysterio obliged trading kicks and punches with the challenger.
Mysterio rolls away from an enzuigiri attempt and then follows up with a bulldog and a bodyslam, which yields a 2 count.
The wind gusts are effecting both men as they seem reluctant to go to the top rope.
Mysterio's attempt at a flying cross body block is countered by a Savate kick by Knoble, who then follows up with flying headscissors. He goes for the top rope legdrop finisher only to have Mysterio roll out of the way.
The match soon spills outside where Knoble uses his size to his advantage to ram Mysterio back first into the ringpost and then toss him back into the ring. He nails Mysterio with an enzuigiri to the face, cradles him but only gets a 2 count. A back suplex and a powerslam only yield another 2 count. Knoble nails a slingshot legdrop and then tries to finish off the champ with a flying body press. Mysterio though rolls through the move and almost comes up with a 3 count.
Mysterio nails some forearms, a hiptoss, armdrag takedown, and other minor moves before going for a bulldog only to have Knoble counter it with a back suplex. Knoble goes for the Russian legsweep, but pauses to point to Sable and say "this one's for you sweetheart", and pays for the delay when Mysterio force feeds him an elbow to the kisser.
Mysterio throws Knoble into the corner head first, catching the challenger shoulder first into the ringpost. He then finishes Knoble off braving the winds with a top-rope hurancanrana, pausing at the top to look at Knoble and spout off "this one's for you sweetheart".
Rey Mysterio Jr. pinned Jaime Knoble after a top-rope huracanrana in 8:35.
[Rey Mysterio Jr. retains the NWA World Junior Heavyweight Title]

Dan Severn, leader of the New Right
<<< cue "Ride of the Valkrye" by Wagner >>>
As the classical notes of Wagner stir the audience they jeer the arrival of the members of the "New Right" Dan Severn, Jack Voight, Kai Hanson, & Alex Wright.
The "damn Germans" enter the ring and Severn has a mic.
Severn] Close your yaps scum. You call this the heartland of the nation, but I think of this area as being the anus of America. But I'm not here to talk about you and your pathetic lives, I'm here to talk about us, the New Right. You see a little while ago we travelled up to Canada and won ourselves a little tournament known as the FREAKIN' WORLD CUP of wrestling. That's right Germany is the World Champion. And what has MAPW done to recognize that and capitalize on our popularity. **** all of course. This two-bit pissant promotion is going nowhere guided by that gutless coward Larkin. But we're not going to sit back any longer and wait for the oppotunities which are owed to us to be given on a silver platter. Starting today we are going out and seizing what we want, when we want it, and for however F***** long we want it for. Shut up. That includes your wives and daughters you bunch of pig farmers...sue--wheee. Tell them boys.
Severn turns around and looks to hand the mic off to someone but all 3 men are looking with a scowl on their face and their arms crossed at their sides. Severn gets a puzzled look on his face, but finally Hanson steps forward and takes the mic.
Hanson] You are right brother Severn, we THE GERMANS are the damn champs of the entire world. And you are right Larkin has screwed the pooch not capitalizing on it. But let me tell you something else Severn. You are not without responsibility on this either. You are supposed to be our manager. Sure you train us well, but what have you done to get us our just due? Not enough. So let it be known that YOU need to step it up a notch starting tonight and do your job as a manager, as a non-combatant, to get us our just dues.
Severn looks incredulous at Hanson but he only gets a look of scorn back from Hanson, and Wright and Voight are unmoving and unexpressive.

Pre-Match segment:
WCW Superstar Brandon Myers is in the ring. The fans cheer as he acknowledges them with a polite wave.
Myers] I was invited by MAPW to appear at Night of Champions 2, and I wrestled like a champion beating Jack Voight. But after the match they just couldn't let it go, and the rest of the Germans ran in to take a piece of my flesh. Listen up New Right. I have a contract to wrestle against Kai Hanson next. Also in that contract is the stipulation that if Jack Voight or Alex Wright interfere in the match then they will draw a 3-month suspension from MAPW without pay. Unfortunately I couldn't get Dan Severn barred from ringside because he has a legitimate managerial license. But better two to worry about then four. So Hanson, back in the day you called yourself "Supreme", well it's time to see if that is true. Bring it.
Brandon Myers v Kai Hanson (/w Dan Severn)
Hanson comes out, followed a couple steps behind by Severn who still looks pissed. Hanson enters the ring while Severn goes to the announce table. The bell rings but before they can lock up Severn interrupts with a mic.
Severn] You know something Hanson, I'm not a stupid man. I've been in more alliances and broken more allegiances then you've had beers. You think you can run the Right better then me? Be my guest. Let's see how you do without me.
With that Severn drops the mic and leaves for the back as the fans cheer. Hanson looks shocked and makes the mistake of turning his back on Myers. The former World champ rolls up Hanson and almost ends it with a sneaky cradle.
Myers is all over Hanson with a dragon suplex and a faceslam. But when he goes for the fistdrop Hanson rolls out of the way. Hanson devastates Myers with an over-the-shoulder stomachbreaker, followed by a short lived surfboard. Hanson taunts the crowd with a pelvic thrust.
Myers fights back though with a clothesline and a diving shoulderblock. After receiving a front layout suplex Hanson takes the match to the floor where he manages to regain control. Back inside the ring Hanson is a monster with a double underhook backbreaker followed by a German suplex that just barely fails to keep Myers down for the 3 count.
These two old school superstars continue to go at it, exciting the crowd with continued changes in momentum. Both men are starting to look pretty winded.
Hanson goes for a running knee lift but Myers blocks it and catapults Hanson face first into the turnbuckle. Myers punishes Hanson with a flying clothesline followed by a diving shoulderblock. Myers works Hanson over in the corner with shoulderblocks to the gut. Hanson though fights right back and the two begin to brawl, an exchange of kicks and punches which favors Hanson.
"The Supreme" Kai Hanson takes the match outside the ring once again, but Myers surprises him by taking the initiative. Myers nails Hanson with a back heel kick, followed by a double underhook piledriver on the announce table. Myers rolls back into the ring to break the count. He returns and goes for a cobra clutch but Hanson manages to fight back, picking Myers up and the two men go backward colliding with the guardrail and then spilling backward over the rail and into the midst of the crowd.
Standing up both men exchange punches beside the rail. Referee Jimmy Appleseed continues the count, and this time it's Hanson who leaves the battle to go break the count after taking Myers down with a lariat. Hanson however stays inside the ring and Appleseed starts a fresh 10 count.
Appleseed counts 1...2...3...we see Myers struggling to his feet..4...5...Myers looks to climb the guardrail but is suddenly pulled backward to the ground...6...7...we have a camera there and we can see Myers laying on the ground in an STF...8...9...10 !!!!
We can now tell that the man applying the move is Dan Severn. Finally Severn releases the hold and storms the ring, celebrating and congratulating Hanson.
Kai Hanson defeats Brandon Myers by countout at 16:22

MAPW Heritage Title Match
Vincent Regliatti (c)
v
Ryland Roxbury
There were two big surprises in the Heritage Title tournament, the biggest was Regliatti winning the belt. However, Roxbury was also a big surprise making it all the way to the semi-finals but having to bow out due to an injury. This is Roxbury's first match back on TV since that injury so while we can expect a bit of ring rust both Roxbury and MAPW officials thought it best to try and regain his new found momentum as soon as possible.
Before this match began Ron Waterman came down to the announce table to do guest commentary, as he is signed to get a shot at the Heritage title next week on Rage.
Regliatti struck first with a left hand, followed by an armdrag takedown. He worked the arm over with a series of ever changing armbar positions, and although Roxbury managed to counter a few of the changes, Regalitti was too fluent in this style of chain wrestling and always managed to come up with the last hold.
When asked who he would rather face next week Waterman said it didn't matter as both men were so much smaller then him they wouldn't stand a chance. He boldy predicted a victory with the Water Bomb in under 5 minutes.
The champ turned it up a notch with a pair of legsweep faceslams to stun Roxbury and tried to put on the figure-four, but the challenger managed to reach the ropes before it was cinched on tight.
Roxbury struck with a kick to the gut followed by a hotshot.
Linley Tolbert asked Waterman about his actions at Night of Champions, interfering in Shamrock's match and getting him Dq'd. Waterman tells Tolbert not to stir up trouble. He says Shamrock was getting screwed and he tried to help out, but the incompetent officials ended up screwing over Shamrock anyway. When Tolbert asked about Shamrock's feelings on the matter Waterman got pretty heated and told Tolbert he would have to ask him himself.
Roxbury scaled the second turnbuckle coming off with a sprinboard splash and getting a 2 count. The challenger continued to work on the champ with a back suplex and a rolling reverse cradle but again only got a 2 count. He took a risk taking it to the top turnbuckle for a superplex only to have Regliatti fight out of it and take the challenger down to the mat with a DDT. He covered, hooking the leg and got the 3 count.
Vincent Regliatti defeated Ryland Roxbury by pinfall after a tornado DDT at 5:58
[Vincent Regliatti retains the MAPW Heritage Title]
Post-Match:
Ron Waterman stands up at the announce table and he and Regliatti stare at each other for a bit before Regs takes his title belt and leaves.

Promo:
Commissioner Bob Backlund makes a brief statement from his make-shift office. He says that tonight's main event will be between Bill Goldberg and Darren Michaels. According to Backlund this match was actually requested by Michaels, not Goldberg, as he did not appreciate being the victim of a spear. Backlund goes on to say that next week NWA World Champion Chris Benoit will be here. It's time for some fresh faces to get a shot at the NWA champ says Backlund, so tonight's main event between Goldberg and Michaels will be for that shot at Benoit next week.

Adam "Tiger" Burke v Asp Evergreen (/w Derek St. Holmes)
Asp locked up with Burke at the opening bell but instead of collar-elbow he just wrapped his hands around the bigger man's neck and tried to force him to his knees with a chokehold. Burke reacted quickly though with an elbow to the bridge of the nose of Evergreen, and followed up with a leg whip taking Asp to the mat.
As Asp tried to regain his feet Burke struck with a series of well placed martial arts kicks to the shoulders and side of the head. Finally Evergreen gave up trying to regain his feet and rolled out of the ring to confer with his manager. Re-entering the ring Burke went to meet Evergreen coming through the ropes but Holmes reached out and held onto the ankles of Burke allowing Evergreen time to nail a clothesline. Asp went to work with a corkscrew legdrop, and a sidewalk slam. He covered but only got a 1 count.
Evergreen went for a waistlock suplex but Burke blocked it, fed Asp and elbow, and then nailed a monstrous belly-to-belly overhead suplex. St. Holmes jumped on the apron but Burke stopped him from interfering by whipping Evergreen into the ropes, making him collide with his manager. Burke then caught Asp on the rebound with his version of the superkick, the Tiger's Claw.
Adam Burke defeated Asp Evergreen by pinfall after the Tiger's Claw at 4:20.
Post-Match:
Pamela Paulshock came into the ring to interview Adam Burke after his big first win on MAPW Rage. Burke was really pumped on and thanked just about everyone as if he had just won an oscar. He then sent a message to Evergreen that their "friendship" was being put on the shelf, and a warning to all the other superstars of MAPW that his days as a green, naive rookie are over. Throughout the interview though Paulshock kept subtly hitting on Burke but the "Tiger" seemed oblivious to the whole thing. At the end of the interview Paulshock asked Burke if he wanted to go get something to eat. Burke said that sounded like an awesome idea, thanked Pamela for the interview, said "hope to see you around soon", turned and left.

Grudge Match:
Special Guest Referee Robert Bayley
Diamond Dallas Page (/w Kimberly Page)
v
Adam Riggs (/w April Hunter)
WCW star Diamond Dallas Page returned to MAPW because he had unfinished business with Adam Riggs and April Hunter for comments and attacks they have made on his wife Kimberly. He did not get the opportunity to exact retribution at Night of Champions 2 in the Six Man Tag Match. DDP asked for and received a special guest referee, his friend Robert Bayley.
DDP attacks Riggs from behind before the opening bell and then as Bayley is calling for the bell to ring he puts Riggs into a chokehold. Bayley counts to 5, but DDP does not release the choke. April Hunter jumps up on the apron and Bayley tells her to get down, all the while DDP is choking Riggs. Finally with Hunter off the apron and a final warning of DQ by Bayley, DDP releases the choke.
DDP punishes Riggs with kicks and punches in the corner, but Riggs is a huge man and is able to fight back. Riggs nails DDP with a clothesline, then grabs him by the back of the head and tosses him through the ropes. Riggs follows to the floor, DDP rolls back in, Riggs follows him back in, and DDP catches him in a cradle for a 2 count.
The count was fairly quick and Riggs complains to Bayley which allows DDP to nail a clothesline from behind on Riggs. DDP follows up with a DDT, goes for the cover and gets a 2 count.
The announce team inform us that DDP is going through quite a losing streak in WCW and a win here over one of the game's greatest stars would sure help his confidence.
DDP though lowers his head too fast on a backdrop and eats a knee. Riggs then backs DDP into the ropes and BITES HIS FACE. Bayley interjects and Riggs gives him a little push away, drawing a warning of a DQ, and a blindside shot to the chops from Page.
Riggs fights back with a couple of elbows, and then goes for the Tiger suplex, but DDP blocks and goes behind. He locks on the sleeperhold but in a couple seconds he lets his arm dip down and it becomes another blatant chokehold. Bayley counts to 5 and finally DDP releases the chokehold. Even his friend seems to be a bit put off by the aggresive tactics of DDP.
DDP tries to drag Riggs' head across the top rope but the crazy Irishman kicks him in the gut. Riggs goes to work with kicks and punches but can't score any big powermoves. DDP fights back and it turns into a nasty brawl which Riggs is winning until DDP nails him in the groin and then lands another DDT.
DDP goes for a sitout powerbomb but the bigman blocks it and puts on an armbar submission. DDP makes his way to the ropes for the break and then grabs Riggs by the waistband and the two topple out of the ring to the floor below.
DDP out punches Riggs and then scoop slams him on the floor. He follows that up with a sitout powerbomb, not quite nailing it fully, but still enough to really hurt Riggs.
In the meantime April Hunter grabbed a chair and ~waffled~ Kimberly from behind knocking her out. Hunter pulled off Kimberly's skirt leaving her in her panties. She was about to remove those when referee Robert Bayley came to the rescue pushing Hunter out of the way. DDP came storming over but Bayley tried to get between DDP and Hunter. Suddenly Hunter lashed out with a fist through Bayley and caught DDP flush in the eye. Dallas Page wandered around ringside in pain while Riggs struggled back to his feet. Bayley called for security who helped cover up Kimberly and help her to the back. While this was going on Riggs tried to sneak attack DDP but Page heard him coming and turned around catching him with a kick to the gut. He was about to nail the diamond cutter but Hunter was back and nailed Page over the head with the steel chair. This was on the other side of the ring from the fallen Kimberly so of course Bayley saw nothing.
Riggs press slammed DDP back through the second and third ropes into the ring. He then followed up with the Phenomenal Performance. Bayley didn't look happy about it but he applied a rather slow 3 count to give Riggs the victory.
Adam Riggs defeated Diamond Dallas Page by pinfall after the Phenomenal Performance at 9:53.
Post-Match:
As DDP came too his friend Bayley explained to him what happened. It seemed like DDP was okay with it until it was explained to him what happend with Kimberly's skirt. A replay was shown on the jumbotron and you could clearly see Bayley's hand resting on Kim's ass as he called for security. DDP went ballistic, nailing Bayley with a kick to the gut and a Diamond Cutter before running to the backstage area.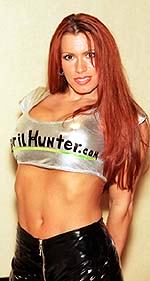 MAIN EVENT
Winner Gets an NWA World Title shot next week on Rage
Goldberg
v
Darren Michaels
Michaels gains the early advantage and nails a running neckbreaker drop, covers, and gets a 2 count. Goldberg fights back, goes for a Gorilla Press Slam but it's countered by Michaels with a rake of the eyes. Michaels nails an Exploder suplex and again goes for a pin, but this time Goldberg tosses Michaels off at the count of 1.
Michaels goes for a kick to the groin but Goldberg blocks, and then tackles Darren hard to the mat, knocking the wind out of him. Goldberg signals for the Jackhammer but when he goes for it Michaels counters with an inside cradle and gets a 2 count.
Michaels tosses Goldberg from the ring and then nails him with a tope suicida. Michaels throws Goldberg around outside the ring but once they return to the inside Goldberg strikes back with a spinebuster slam out of nowhere.
The two men exchange the advantage back and forth for a few minutes, with both men countering to deny the other any big impact moves. Michaels nails a springboard spinwheel kick, and then leaves the ring and tries to put Goldberg in the figure-four wrapped around the ringpost but Goldberg kicks him off.
Goldberg just can't seem to get the momentum back and Michaels gives him a combination attack of savage moves and suicidacal moves that keep him completely off balance. It's obvious that Michaels cares nothing for his own well being, never mind that of his opponent.
The match spills outside the ring again where Michaels whips Goldberg into the ringpost, and follows up with a facerake to blind the big man. Back inside the ring Goldberg blocks a vertical suplex attempt, lifts Michaels straight up for the Jackhammer, and would have possibly finished off Michaels but for the sudden appearance of the man in the black and red mask. He stormed ringside and was there to pull out the feet of Goldberg when he was going for the jackhammer. The two wrestlers tumbled to the mat. Michaels delivered a pair of knees to the head of Goldberg, then nailed a moonsault from the second turnbuckle. He covered Goldberg and the masked man again interfered, covertly holding down the legs of Goldberg on the 3rd count to prevent him from kicking out.
Darren Michaels defeated Bill Goldberg by pinfall following a moonsault from the 2nd turnbuckle, and aided by outside interference at 13:40.
Post-Match:
Michaels and the masked man celebrated outside the ring. However, they celebrated a bit too long and Goldberg recovered quickly and ran them down. He speared Michaels, knocking him out cold and then pursued the masked man through the crowd. Finally he caught up to him and dragged him back down through the crowd and into the ring. He hoisted up the masked man and brought him down with the Jackhammer. Standing overtop of him he started to pull off his mask when Darren Michaels intervened having recovered from the spear delivered a couple minutes before. Michaels took Goldberg out by clipping his leg and then grabbed the masked man and helped him out of the ring and to the back.
As the camera zoomed in on Goldberg his look of disgust turned to a smile. The mic picked up his words as "Doesn't matter, I saw enough, I know who you are man."