Cue <<< "One Big Rush" by Joe Satriani" >>>
The MAPW theme song by Satriani plays as we are welcomed back to MAPW, back to the Twin Cities, and back to the NWA by our announcers Joe Aiello and Linley Tolbert.
The announcers inform us that plans will be unveiled tonight regarding the MAPW Heavyweight and Tag Team Titles. What they can tell us right now, is that a 4-team mini-tournament will be held on RAGE over the next 3 weeks to determine new tag team champions. One semi-final will be tonight between The Spinebusters and the West Hollywood Blondes. The other semi-final will go next week between the Hardamann Brothers (that's right, Al's older brother Luke has returned to the wrestling wars) and a new team from New Zealand, The Sheepherders.
Also signed for tonight will be a match between two behemoths, newcomers to MAPW, Ron Waterman will face off against Bam Bam Bigelow. Former PWA cruiserweight Chris Jons is on hand. A great cruiserweight match-up between Alex Wright and Jaimie Knoble will also go down, along with much, much more. Without further adieu they send us to the ring.

<<< cue "Ain't Going Down 'Till the Sun Comes Up" by Garth Brooks >>>
The fans come to their feet as the familiar sounds that precede fan favorite Sam Holiday play throughout the arena. The tall, athletic looking Texan runs to the ring wearing a Star Spangled Banner t-shirt, black cowboy boots, a big ass belt buckle, and brown snake skin cowboy boots.
He slides under the bottom rope, pops up on his knees and lifts his arms to the crowd, soaking in the applause. A chant of "U-S-A, U-S-A" goes up in the arena after Holiday points to the flag on his chest.
Holiday] Welcome back y'all, back to the heartland, back to wrestling the way it was meant to be. There's a reason that I was selected to bring this message to you, the fans, instead of President Jack Larkin, instead of commissioner Bob Backlund, and that reason is because this federation is about you the fans, and us the wrestlers.
Holiday becomes quiet for a moment, and scans the arena.
Holiday] Wow, a whole lot of people came dressed tonight as empty seats. Those big shot players in St. Louis, New York, and Atlanta sure put things into a tailspin. Well, the NWA is back, and we'll have to have some faith and take back our ground inch by inch. Fan by fan. And we appreciate all of you who came out here tonight! Welcome back!
Now, as for the messages I have to relay to you folks. Let's see, remembering things was never my strong point. Oh yeah, Joe already told y'all about the tag team tourney we will be having. Good luck to my buddy Al in that one! Also, when we went dark last year, the champion at that time was none other then the prince of Voodoo, you know who I'm talking about! VENDETTA !!!
Well, unfortuantely he could not be here tonight as he is still in Haiti rebuilding what he can after recent events there. But, he is signed to wrestle in MAPW, and Bob Backlund has told me that a match is set up for next week between Vendetta and Manny Silva to crown the new MAPW Heavyweight champion, as they were the champion and the #1 challenger when we went dark last time out.
The fans cheer the announcement of that big match.
<<< cue "Hair of the Dog" by Nazareth >>>
Holiday lowers his mic and looks disgusted as "Mad Dog" Manny Silva comes down to the ring, looking pissed off as usual.
The fans begin to reign down chants of "poodle, poodle, poodle" showing that they haven't forgotten how to irritate the double-tough Hawaiian grappler. Instinctively Silva taps down the tangled mess of a 'fro which passes for his hair-do, and then stops himself short and kicks at the bottom rope as the fans chant intensifies.
Silva snatches the mic from Holiday.
Silva] Not a wise move there Tex, to piss off the MAD DOG of pro wrestling, when I was already pissed off enough. I am the true champion of the mid-west and if the Wolfpack hadn't screwed me over I would have recovered that piece of tin before Larkin went for his little walkabout.
Holiday just shrugs his shoulders and indicates it was not his decision, and points to the backstage area.
Silva] Yeah, yeah, I know, don't kick the shit out of the messenger. Well I've never needed an excuse before to lay a beating on someone, and just the fact that your from Texas should suffice...
<<< cue "One Big Rush" by Joe Satriani>>>
The Jumbotron flares to life and the smiling visage of Bob Backlund in a yellow bow-tie fills the screen.
Backlund] Manny, Manny, Manny...what are we going to do about that temper of yours? Now, our lawyers had to return your $25,000 performance bond that you posted last time around, but make no mistake about it, one foul up and you will pay again. You don't have a match against that man across the ring from you, and as much as I would like to see him kick your butt, we already have a pretty full show.
Silva] You want to see him kick my ass? Well, then make the match for tonight! I can use a warm-up for next week's crowning achievement.
Backlund] Well, we don't have a main event as of yet, so why not? Tonight's main event will be you two sons of guns going at it in the middle of the ring, with nothing on the line except pride...
The fans cheer loudly, interrupting the commissioner.
Backlund] pride...and your spot next week Silva in the MAPW Heavyweight title match!!
Silva] YOU CAN'T DO THAT YOU MOTHER...
The JumboTron goes white noise, then flickers to black.
Holiday leans into Silva's mic, going nose to top of the head with the former champ.
Holiday] Looks like he just did...Tex. See you later tonight.

Bam Bam Bigelow v Ron Waterman
Waterman came out strong, but too reckless and Bigelow caught him with a kick to the knee that buckled the big man. Bam Bam worked over Waterman in the corner, with series of kicks and stomps, not letting the superbly chiseled Waterman a breather. But when Bigelow went for the Greetings from Asbury Park finisher Waterman broke out of it with some wild punches as he was fighting for his professional life. Now it was Waterman's turn to lay on some punishemnt with a side suplex, hanging vertical suplex on a nearly 400 lb Bigelow, and an attempt to finish the match with a sharpshooter. Bigelow got to the ropes for the break and then in desperation took Waterman to the outside. Several times Waterman gained the advantage outside the ring but when he tried to get back inside Bigelow managed to stop him. Finally referee Buddy Lane got to 10, and counted both men out.
Double Count-Out at 6:20
Post-Match: referee Buddy Lane stepped between the two huge men, and surprisingly they let him break them apart. Both men appeared winded from a hard fought match and took a few seconds to recover with their hands resting on their knees and breathing heavily from their mouths. The fans gave both men a nice round of applause for a hard fought contest.

BACKSTAGE
Linley Tolbert has a mic and is standing with MAPW Commissioner Bob Backlund.
Tolbert] Mr. Commissioner, notable by their abscence tonight are several very lovely, if not aging, divas who when we last saw, were vying for your attention and the job of assistant to the commissioner. What is going on in that regrad?
Backlund] Linley, Linley, Linley, you see...what do you want?
Backlund is annoyed when Asp Evergreen steps into camera range, obviously with something on his mind.
Evergreen] Oh, Mr. Backlund, I just wanted the chance to say welcome back and congratulate you on..well...errr..returning to work, and...am I interrupting something?
Backlund shakes his head back and forth.
Backlund] I remember you well worm...you pissed Larkin off, you pissed me off, you pissed off most of the boys in the back too. Well then, why don't we just start off where we left off last time, should we?
Backlund calls Evergeen to stand right next to him, and he puts his arm around the young wrestler who is looking pretty uncomfortable right now.
Evergeen] Mr. Backlund, I don't know what you've heard, but I mean, I think you would be better off with one of the diva's...
Backlund releases his arm.
Backlund] Look son, I'm not trying to screw you...just screw you over. So, tonight, you are going to earn your pay, and you will wrestle next against Ken Shamrock? You may have heard of him, he's known as the World's Most Dangerous Man?
Evergreen looks stunned.
Evergreen] Well look Bob, you already said the show was full tonight so you don't need to do me any favors.
Backlund checks his watch.
Backlund] Oh, I think we can spare an extra two minutes or so to see this match.

Ken Shamrock v Asp Evergreen
As predicted by Commissioner Backlund this was a squash. Shamrock actually seemed to show some pity on Evergreen, until he received a thumb in the eye. Shamrock then responded with 2 successive fisherman suplexes, a running clothesline, and a cobra clutch suplex. With Evergreen hurt Shamrock spent a few seconds stomping on the ankle before locking on the anklelock. Evergreen tapped out before Shamrock even had it completely locked in.
Ken Shamrock over Asp Evergreen by submission with the ankle lock submission at 3:10.

Taped Promo;
From their ranch in New Zealand we see the Sheepherders Nancy and Cage standing on a porch, water dripping, swing creaking in the wind. They look over their lush green acreage with a smile on their face before turning to the camera to speak.
Nancy] As Costello and Hefferman before us, as Miller and William before us, we must leave this paradise, this ecological wonderland, and venture forth to the barren wastelands of middle America. The reason is simple. As it is with the wild fauna, it is with the wrestling landscape, green and lush here, barren, unhospitable, and empty over there. Yet with all your comercial resources you have created something tangible where before there was nothing. You have drawn all the world's best athletes to you, like moths to flame. Me and my life long friend here Sexton Cage are coming next week to teach the Hardamann's what it is like to meet real wrestlers in combat. Next week a new era of supremecy begins where the Fabulous Kangaroos of Australia, where the Crazy Kiwis, later the Sheepherders, of New Zealand left off. We are here to fill the void.
They turn their backs to the camera and watch the sunset.

MAPW Tag Team Title Tournament Semi-Final Match
The Spinebusters; Bryan Caruthers & Jerry Orth
v
West Hollywood Blondes; Lenny Lane & Lodi
Hard fought contest and the Blondes were right into the action, but as the match wore on it became apparent that Caruthers was the best man in the match and Lodi the worst. Soon enough the Spinebusters put together their usual match of quick tags, double teaming on the transitions, and cutting the ring in half. Orth tried to open it up a bit, but Caruthers would tag in from his younger partner and put the clamps down once again. The end came in a manner we've seen before as well. Frustrated, Lenny Lane tried to interfere and while referee Melissa Coates struggled to clear him from the ring the Spinebusters double-teamed for a stuffed piledriver and then got the pin.
Spinebusters over West Hollywood Blondes by pinfall when Caruthers pinned Lodi at 9:05 after a stuffed piledriver.

"Lethal" Chris Jons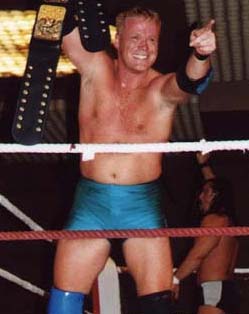 In-ring Interview:
"Lethal" Chris Jons is in the ring along with PBP announcer Joe Aiello.
Aiello] Ladies and gentlemen, please join me in welcoming to Mid-America, former PWA stand-out, a master ring technician, Lethal Chris Jons!!
The fans respond with a polite round of applause.
Jons] Thanks Joe, and thanks to all the great supporters of Chris Jons out there tonight. The PWA of course is no more, and neither WCW nor WWF seemed to have much interest in me, because quite frankly, they don't want guys who know what it means to go Broadway, who know a dozen different ways to apply a facelock. But here in the heartland of America, it's a different story. I feel like I've finally come home.
HOLD ON....
The voice of Dan Severn precedes him down the ramp. He is dressed in a navy blue suit and is carrying a microphone. He enters the ring with a smirk on his face.
Severn] What the hell is the MAPW doing giving a never-been but otherwise would be a has-been like Chris Jons a mic for? I don't smell ratings, all I smell are a bunch of botched suplexes and a Chris Benoit wannabe...
Jons steps forward and rocks Severn with a right to the jaw. He follows it up with a kick to the gut, but when he tries to put on the cross-face it's blocked by Severn who counters with a cobra clutch. After inflicting pain on Jons for about 10 seconds he lifts him up and slams him to the mat. Severn has lost control and begins to stomp away at Jons, taking off his suit jacket, putting it over Jons' head and continuint to stomp away.
Suddenly Shawn Michaels hits the ring and the fans go crazy as he nails Severn from behind with a running axhandle smash. Severn gets up slowly and just manages to avoid a serving of sweet chin music by taking the low road out of the ring. He wags his finger at HBK before issuing him the one finger salute. Michaels tends to a fallen Jons.

Jamie Knoble v Alex Wright (/w Extreme Jack Voight)
Knoble wanted the pace of this one to be off the charts, and Wright tried his best to accomadate the pace. However, as Knoble was getting the best of the action Wright changed tactics, first stalling, then cheating, then taking the match outside the ring. Things turned in the German's favor when "Extreme" Jack Voight seized an opportunity to attack Knoble from behind, beating him down with double axhandles, then stomps. Voight rolled Knoble back into the ring where Wright tried to finish him off with a German suplex, then a reverse neckbreaker, but each time Knoble managed to break the count. Frustration led Wright to take a chance on a Superplex but Knoble countered with a top rope DDT which saw both men stay down for almost a count of 10. Wright got to his feet first and clotheslined Knoble over the top rope. The German then tried to distract referee Jimmy Appleseed to allow Voight another chance to interfere. The former IPW star took up a steel chair and measured Knoble with a running chairshot. However, Appleseed turned at just the right moment and caught the chairshot, and called for the DQ.
Jamie Knoble over Alex Wright by disqualification when Voight was caught for outside interference at 5:54.
Post-Match;
Despite Alex Wright leaving the ringside area in frustration, Voight got a manical look on his face and continued to work over Knoble (albeit without the chair as it was removed by Appleseed). Voight slammed Knoble back first into the ring apron, then into the ringpost. He then "rockbottomed" him onto the arena floor. Voight yelled at Knoble and spat on him before leaving the ring area.

Backstage;
The announcers inform us that there is some sort of altercation going on backstage, and that a camera is capturing the action.
The feed changes to the staging area where we see Eddie Chavez who is up next in his match arguing with Derek St. Holmes, ESQ.
Holmes] But I'm still your manager right? You want me, scratch that, you NEED me out there to help you. You CAN'T do this alone.
Chavez looks mad and pokes his finger into the chest of Holmes.
Chavez] LOOK - HOLMES - I'll spell it out for you. Last time, you and Evergreen screwed things up for me so bad that I wasn't really wanted back here. I had to do a lot of ass kissing to get this job back, and I'm not going to let some two bit hustler like you, or Asp Evergreen screw things up for me - again. Now hit the road..before the road hits you.
Holmes looks confused, and backs away from Chavez, allowing him to disappear through the curtain and to the ring.
Asp Evergreen walks into the feed.
Evergreen] Holmes, I've been looking all over....hey, what's wrong?
Holmes] I think Eddie Chavez, just fired us.
Evergreen] You mean, fired you.
Holmes just nods and stares at the curtain.
Evergreen] Don't sweat it my friend, we don't need a two-bit piece of trash like Chavez. Come on, let's go have a soda.
The two walk away from the camera.

Eddie Chavez v Raymond Bingham
Bingham began the match by playing mind games with Chavez, refusing to lock up, and then slapping him in the face. Chavez lost his temper, and then when he was tied up with the ref Bingham struck with a poke to the eye. Bingham followed up with a hotshot, and then poured on the offense. It was strictly a squash from here and in the end Bingham used the figure-four leglock in the middle of the ring to get the win.
Raymond Bingham over Eddie Chavez by submission to the figure-four leglock at 4:22.

Raymond Bingham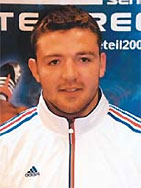 Post-Match:
Raymond Bingham remains in the ring with a microphone.
Bingham] Mid-America the pleasure was all yours. But next time send something better down the aisle. I'm the 2001 PWI Rookie of the Year, the 2003 WWA wrestler of the year, and a former WWA United States Champion. I have credentials and potential far superior to any other wrestler in this hick promotion, and if you don't start feeding me titles I'll take my road show somewhere else.
Bingham throws down the mic and leaves the ring amdist a chorus of jeers.

Taped Promo:
The scene is a warehouse loft, looking rather spacious, semi-dark, candles providing only flickers of light. The floors are brightly polished hardwoods, in contrast we hear the hiss of steam from old radiators. It's dark outside the windows but we see the lights of the city, and hear the noise of traffic and sirens.
In the middle of the room is a metal poster-bed, with white sheets hanging from the side. In the bed is a leather clad woman, with chains binding her to the bedposts as well as to shackles built into the floor itself. However, she does seem to have enough freedom of movement to be doing some simulated bumping and grinding alone on the bed.
We hear a voice speak from the shadows and we can see a high backed velvet chair, a pair of legs, but the rest of the body lost in shadows.
Voice] Diamonds are forever, but you already know that. But did you know that they are also the HARDEST substance on earth? They are used industrially for all types of drilling applications. Diamonds are also a girl's best friend. But, alas, you also know that opposites attract, and every action has an equal and opposite reaction. That is why I am coming to Middle America, to find the opposite who will compliment my immense talents. All things that are build eventually decay...rot...rust. Except for diamonds of course. Middle America I am coming. I am forever.
The figure steps out of the darkness, as the woman on the bed's grinding increases. He sits on the edge of the bed, puts a gloved hand on the small of her back and slowly she begins to relax. The figure turns to the camera and we see it is Dustin Rhodes in white face-make-up.
Back to the announce crew:
Aiello] Phew..talk about a weirdo!!!
Tolbert] A cosmopolitan fellow like him should go over quite well with the Iowa farmers and Wisconsin cheeseheads. But I do like his taste in women.
Aiello] You would! Let's go to the ring now, for our main event. Sam Holiday has a chance here to beat Manny Silva and to take his spot in next week's match for the MAPW Heavyweight title.

MAIN EVENT
WINNER FACES VENDETTA NEXT WEEK FOR THE MAPW HEAVYWEIGHT TITLE
Sam Holiday v Manny Silva
Silva is in a bad mood, and harnesses it to start strong going right after Holiday. He pounds in him in the corner before bieling him to the middle of the ring where he slaps on a reverse chinlock. He's not playing around tonight as he takes the Texan to his feet, slaps on a 3/4 facelock and then brings him back down to the mat with a Russian legsweep. Silva throws Holdiay over the top rope crashing to the floor below, and then risks DQ when he pushes referee Buddy Lane out of the way so he can go right after Holiday.
Outside he throws the Texan into the ringsteps, but when he lifts them up to use as a weapon Lane steps into the way and forces the Hawaiian to put them down. Silva goes after Holiday again but a whip into the guardrail is reversed by Holiday. The Texan recovers enough to roll back into the ring and Silva follows suit.
It's a real slobberknocker now inside the ring as the two big men exchange punches and kicks that bring the fans to their feet. Holiday gets the better, comes off the ropes and nails Silva with a clothesline which knocks the villan staight off his feet. Holiday seperates Silva's legs and then drops a knee just above the groin.
Holiday punishes Silva for a couple of minutes but when he goes to the top rope for the Holiday legdrop, Silva gets there in time to catch Holiday with a shot to the gut and then slams him down to the mat. It's Silva's turn to lay out some punishment and he does so with gusto. Powerslam, piledriver, and then he leaves the ring to deal out a snap ring rope clothesline. Silva wastes time to jaw at the crowd before returning to the ring.
That delay costs him as Holiday fires back, but falls victim to an eye gouge and then Silva nails a devastating looking front suplex. Silva slows things down for a bit with a neck twist which fails to get the desired submision from Holiday. Frustrated Silva takes the action outside the ring again.
The two men battle outside, both taking their share of lumps, and Silva comes back to the ring busted open from a shot into the ringpost. Holiday is on fire with a series of running clotheslines, and then a bulldog. He goes for the pin but only gets a 2 count. Holiday nails 4 straight kneedrops and then bodyslams Silva into position. He climbs to the top and attempts the Holiday leg drop, only to have Silva roll out of the way. The Mad Dog pounces right away with a vicious looking running kneesmash into the face of Holiday, who was still in an upright position after the failed legdrop. Silva picks up Holiday and delivers a T-bone suplex. Holiday manages to get himself into a sitting position but Silva is waiting behind him, and finishes the match with a well executed grounded crucifix cradle.
Manny Silva over Sam Holiday by pinfall with a grounded crucifix cradle at 13:10.
Post-Match
Silva does not take any time out to celebrate his victory, instead he lays right into Holiday with more kicks and punches before throwing the Texan once again over the top rope. He brushes off Lane's attempt to stop him, and follows his prey outside the ring. He gets a chair and nails Holiday with a running chairshot. He picks the chair up again, and prepares to deliver another chairshot as we see Holiday is now busted open too.
<<< cue "Dirty Deeds" by AC/DC >>>
The announce crew are very excited and confused as we were led to believe that Vendetta was not here tonight. However, the fans are on their feet, all eyes to the ramp, the lights are dimmed and his music plays. Silva readies his chair and turns to face the ramp. After a few seconds nothing happens and Silva turns around to face Holiday...too late...as he is rocked by a flying clothesline! Holiday picks up the discarded chair and ~waffles~ Mad Dog across the back of the head, sending him flaying face down into the floor.
Holiday celebrates his revenge, but not a victory, and there is no sign of the Haitian Warrior Vendetta, as we